Hillary Clinton blames 'the young people' after getting mocked for Greenpeace video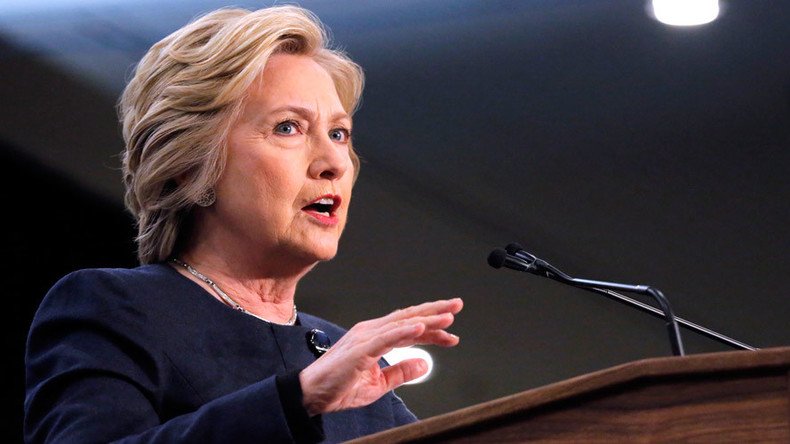 You know a presidential candidate is having a tough stretch on the campaign trail when a supporter says, "Every time Hillary opens her mouth, she makes it harder and harder for me to vote for her."
Democratic presidential candidate Hillary Clinton is under fire for the second time in a week, most recently for suggesting "the young people… don't do their own research" on the NBC talk show Meet The Press Sunday.
READ MORE: Clinton loses it when Greenpeace activist asks about her fossil fuel donors (VIDEO)
Host Chuck Todd played a clip of her now-infamous encounter with a Greenpeace activist, in which she was asked about the campaign contributions she has received from the employees of fossil fuel companies.
She insisted that she "cares passionately about climate change," notwithstanding the millions of dollars her presidential campaign, a related PAC, and the Clinton Foundation have received from 'Big Polluter' companies and the employees who work for them.
"I feel sorry sometimes for the young people who, you know, believe this," she said. "They don't do their own research. And I'm glad that we now can point to reliable, independent analysis to say, 'No, it's just not true.'"
Hillary Clinton said young people don't do their research.. Honestly u could say it about the older voters.. The younger ones are "woke" lol

— Sam Christian (@PhillyTheBoss) April 4, 2016
Potential voters took to social media to express their disgust with her response, which they chalked up to "ageism" and "appalling condescension".
The youth vote has boosted the electoral fortunes of Clinton's Democratic party rival, Bernie Sanders, with voters under 30 voting six to one in favor of the Vermont senator in Iowa and Nevada, and five to one in New Hampshire, according to the Washington Post.
The American Enterprise Institute has determined via exit polls that Sanders has won the youth vote in every state except two.
Clinton has also been taking heat for appearing alongside Governor Andrew Cuomo at a Monday rally in New York to celebrate the introduction of new state legislation mandating a $15/hour minimum wage, given her mixed support of the Fight-for-15 movement.
READ MORE: New York, California reach deals to raise minimum wage to $15 per hour

Hillary Clinton is going to be honored in NY today for helping get a $15 minimum wage, something she does not support. #FightFor15

— ColeslⒶw (@thecoleslaws) April 4, 2016
Sorry Wisconsin! Clinton's shifted with the winds to support a $15/hr minimum wage in NY, but won't lift a finger to raise yours from $7.25

— Middle Class Dem (@MiddleClassDem) April 4, 2016
Some Twitter users pointed to comments that Clinton made late last year, when she said, at most, she would support a $12 federal minimum wage, even though Sanders insisted that rate was "totally inadequate" and has been fighting for $15.
This seems like a good time to remind everyone that Hillary Clinton was NOT in favor of the $15 minimum wage. https://t.co/GlqGJh2SvN

— Occupy Wall Street (@OccupyWallStNYC) April 4, 2016
We also learned on Meet The Press that Clinton's campaign has also resorted to another modern tactic of any struggling campaign - invoke 9/11.
You can share this story on social media: