White House accused of censoring French president mentioning 'Islamist terrorism'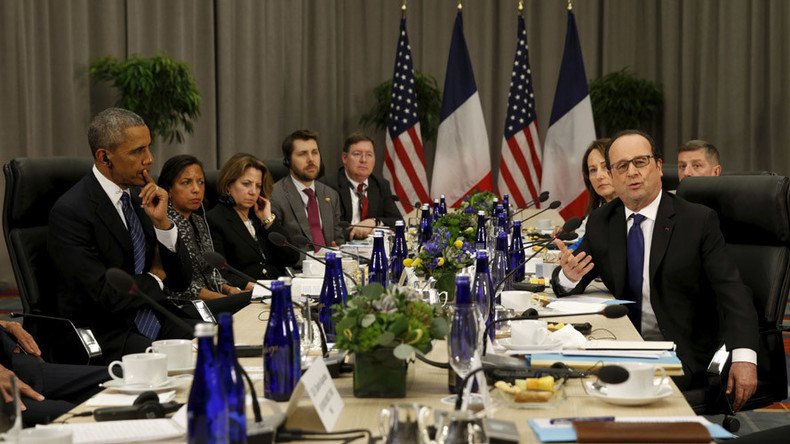 The White House has been accused of censoring the French president at a Nuclear Security Summit press conference, after he used the term "Islamist terrorism" to describe the global threat from Islamic State (IS, formerly ISIS/ISIL) which has roots in Syria and Iraq.
Both US President Barack Obama and French President Francois Hollande made remarks at Thursday's meeting, which mainly focused on global terrorism. A video and transcript of the comments made were uploaded to the White House website.
According to the Media Research Center, a self-described media watchdog with conservative leanings, the White House pulled the video shortly after publishing it online only to post it again but with some of the interpreter's audio removed, reverting instead to Hollande's French.
The audio in question was at the exact moment Hollande said that "Islamist terrorism, is in Syria and in Iraq," a phrase Obama has not used, which his critics have branded as "political correctness".
The removed comments, as per the transcript, are in bold:
"We are also making sure that between Europe and the United States there can be a very high level coordination. But we're also well aware that the roots of terrorism, Islamist terrorism, is in Syria and in Iraq. We therefore have to act both in Syria and in Iraq, and this is what we're doing within the framework of the coalition. And we note that Daesh [Arabic name for IS] is losing ground thanks to the strikes we've been able to launch with the coalition."
Republican presidential hopeful Ted Cruz told Fox News that the "administration have been sound bound up by political correctness that they have refused to acknowledge what is it is we are fighting, refused to even name it."
So President Obama still refuses to say "radical Islam" or "Islamic terrorist". He could learn a thing or two from Francois Hollande!!

— Richard Solomon (@boxingprophet68) April 3, 2016
"After every one of these attacks, the president does a national TV conference where he refuses to say the words 'radical Islamic terrorism,'" said Cruz. "Instead he lectures Americans on Islamophobia. Well, enough is enough."
Hollande's 'Islamist terrorism' omitted from White House vid; 'technical issue' blamed!Obama just lying to himself! https://t.co/M7I2vRcIuH

— daniel eugene hirsch (@EugeneHirsch) April 3, 2016
The White House have denied the accusation of censorship, however, claiming that it was due to a "technical issue with the audio during the recording of President Hollande's remarks" that "led to a brief drop in the audio recording of the English interpretation."
An updated video with the audio restored was then posted to the White House website and YouTube channel, with both versions now online.
Many of those commenting beneath the video have not accepted the "technical issue" excuse though with one user saying the White House had been "called out" while another commented that it was "a technical issue my ass."
"You think so little of the public's intelligence," wrote user kobee while user Jay Dillon wrote that it was a "treasonable offense".
You can share this story on social media: