Trump sparks NATO debate: 'Obsolete' or 'tripwire that could lead to World War III'?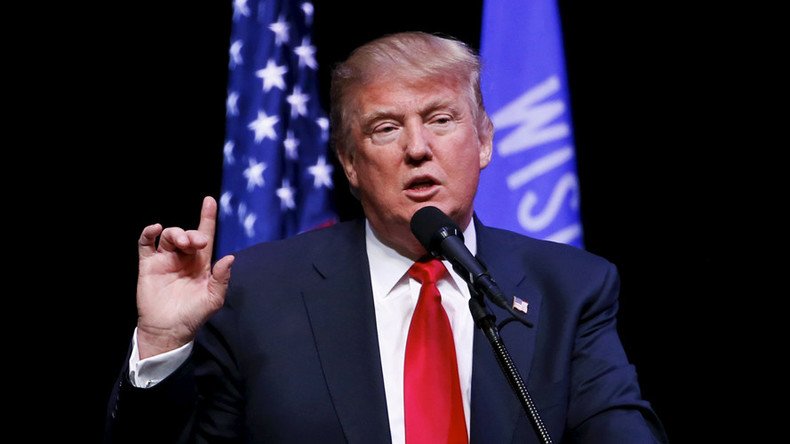 Republican presidential candidate Donald Trump slammed NATO on the campaign trail this week, saying he can live with breaking up the military alliance, which he calls "obsolete."
NATO has rarely been a kitchen table conversation in the US, but Trump's comments have ignited a nuanced debate across the political spectrum that's making for strange bedfellows.
Justin Raimondo, a self-described "conservative-paleo-libertarian," wrote on Antiwar that Trump's idea to end the "bad deal" that is NATO would see the US "risking World War III," particularly if it expands along Russia's borders.
"With his plan – or, rather, inclination – to abandon the old NATO and replace it with some sort of multilateral counter-terrorist operation, and his insistence that our 'allies' pay up, Trump is forcing an issue onto the stage that hasn't been seen since the days of Bob Taft," Raimondo said.
NATO
The North Atlantic Treaty Organization was set up in the wake of the Second World War as a way to stop the spread of anti-capitalism and ensure stability. All member states share intelligence and are bound to defend any member that is attacked.
Trump also complained that the US pays a"disproportionate share" of the cost.
"We are protecting them, giving them military protection and other things, and they're ripping off the United States. And you know what we do? Nothing," Trump said, referring to the other members of NATO at a campaign rally in Racine, Wisconsin on Saturday.
Trump's position puts him close to Democratic candidate Bernie Sanders, who is against the expansion of NATO. Sanders has previously said a new coalition should be created to include Russia and the Arab League to address "21st Century" security concerns.
Republican candidate Ted Cruz said withdrawal from Europe would be "a major victory" for Islamic State (ISIS/IS, formerly ISIL) and Russian President Vladimir Putin, while Democratic hopeful Hillary Clinton claimed Putin "already hopes to divide Europe", and that "it will be like Christmas in the Kremlin" if NATO was to disband.
After the fall of the Berlin Wall, Mikhail Gorbachev says he agreed to German reunification on the condition that the 12-member NATO would not expand eastwards.
The now-28 member-strong organization has defied its purported promise on a number of occasions.
Montenegro is the latest state being offered membership. Bosnia and Herzegovina, Georgia, and Macedonia are in the process of applying.
Aspiring members must have a democracy "based on a market economy," treat minorities fairly, and have the ability to make a military contribution.
READ MORE: Police 'sexually assault' black couple during roadside cavity search (VIDEO)

US politicians, including outgoing President Barack Obama, say Trump's controversial remarks on such issues indicate that he has little comprehension of international politics.
Obama particularly attacked Trump's suggestion that Japan and South Korea should be allowed to get nuclear weapons rather than rely on America's arsenal for nuclear deterrence.
"I think that question is probably a question that might have been asked 15 years ago," Joint Chiefs of Staff chairman Joseph Dunford said, when asked about NATO. "I had the privilege of commanding NATO forces in Afghanistan. And when you think about it, it's pretty extraordinary that for 10 years, NATO has formed the core of a coalition in Afghanistan that has stayed together and is still together today with the Resolute Support mission, to move Afghanistan in the future."
So just how obsolete is NATO, and is the US getting its money's worth?
"There is a lot that NATO has done and is doing," US Defense Secretary Ash Carter said, in response to Trump's comments.
NATO has a number of strategic bases in Europe, as well as an increasing presence in Africa. Ongoing operations include a NATO-led force that remains in Kosovo, where it was deployed in 1999.
The organization provides support and training in Afghanistan and Somalia, where it works to combat piracy, and in 2012, it deployed support in response to the Syrian crisis.
Many of NATO's campaigns advanced US foreign policy objectives and were enthusiastically lobbied for by US politicians, particularly Democrats.
From NATO's deployment in the Gulf War to its role in the overthrow of sovereign Libyan leader Muammar Gaddafi, the alliance has been at the forefront of conflicts over the past few decades.
The cost of NATO
Members contribute to running costs based on their Gross National Income and make contributions to a common funding pool, which pays for NATO's civil and military budgets, as well as the security investment program.
The US contributes 22 percent to the total NATO budget. Germany is the second largest contributor at 14.5 percent, followed by the UK with 11 percent.
In 2006, members agreed to commit a minimum of two percent of their Gross Domestic Product to their individual militaries. Greece, Poland, the UK, and Estonia are said to be the only nations besides the US to uphold this commitment.
The effects of the global recession and subsequent austerity measures have accounted for some members' shortfalls.
The combined GDP of the non-US members is greater than that of the US, yet those nations combined spend less than half what the US does on defense.
In 2015, the US spent $598 billion on its defense budget. The UK, in comparison, spent $66 billion.
This accounts for over 50 percent of the US federal discretionary budget. It makes up close to 16 percent of total federal spending, including social security, health and all other expenses.
The US spent $804 million on NATO in 2009 and $711 million in 2010. When taken as a percentage of overall military spending of around $600 billion, the number is a modest fraction of the total that provides the US with strategic bases in Europe, intelligence sharing, and a proxy army with which to carry out its geopolitical strategy.
Military Industrial Complex
Another factor in the cost argument is the rich market NATO provides for the military-industrial complex.
Countries hoping to join NATO must ensure their military is up to scratch. This equals billions in sales for the likes of Boeing, Lockheed-Martin, and other Western defense contractors.
Those same corporations pump a portion of that revenue back into the pockets of politicians in the form of campaign contributions and lobbyists.
The benefits for the defense industry is evident by the lobbying carried out by the same companies to push for NATO expansion in the 90s.
Lockheed Martin funded a Romanian group seeking membership, the defense contractor's VP Bruce Jackson chaired the US Committee to Expand NATO, and Boeing sponsored American Friends of the Czech Republic.
You can share this story on social media: