Toxic additive BPA found in 2/3 of canned foods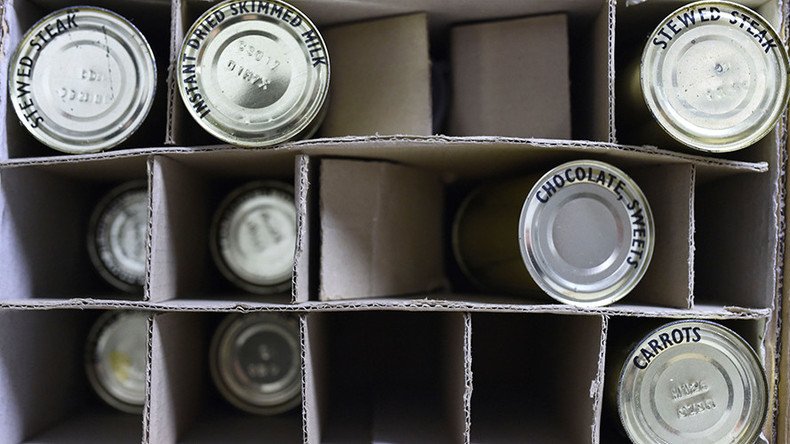 Endocrine-disrupting chemical Bisphenol-A was found in 67 percent of canned food products of top brands – including Campbell's and Del Monte – according to a new report. Some companies have since announced a phasing-out of the toxic chemical.
"Our findings were alarming," wrote the authors of the study, titled Buyer Beware. Of the 192 cans examined, 129 tested positive for BPA-based epoxy, though quantity levels were not included in the analysis. In addition, the study reported that "some retailers and brands have replaced BPA with PVC, made from vinyl chloride, a carcinogen."
All 15 Campbell's products included the testing contained BPA, the report says. Nearly three-quarters (71 percent) of the 14 Del Monte cans tested positive, as did 50 percent of the 12 cans from General Mills, all three of the McCormick & Company cans, and all three of the Nestle Carnation tins.
Of the smaller companies included in the study, all three Empire Company cans and both of the Goya Foods, Ocean Spray, Thai Agri, and Vilore Foods products each tested positive.
Reacting to the study, Campbell's Soup Company vowed to halt use of BPA by mid-2017 in favor of an alternative epoxy. Campbell's said it "began using cans with linings made from acrylic or polyester materials in March 2016 and will continue to introduce the new linings across its US and Canadian portfolio through 2017."
Other companies have followed suit. Del Monte will phase-out BPA in its products, the company said ahead of the study's release. Nestle also plans to move away from BPA by next year, the report said.
"Despite BPA being safe and posing no health risk to consumers, we have made a public commitment to remove it from our packaging materials,"a spokeswoman for Nestle told the Guardian. "We have already eliminated BPA from our packaging for infant foods and are working towards completing the full transition of our product portfolio to non-BPA food contact packaging, where suitable safe alternatives exist."

General Mills, Hormel and J.M. Smucker Company did not indicate a timeline for phasing out BPA, the report said.
The study, conducted by a group of public- and consumer-health advocates such as the Breast Cancer Fund and the Ecology Center, analyzed the lids and insides of 192 canned foods to "determine to what extent BPA-based epoxy linings are still being used by major national brands and retailers... and whether these companies have policies in place to disclose and/or phase out its continued use."
BPA is a hormone-mimicking chemical linked to breast and prostrate cancers, asthma, obesity, type 2 diabetes, infertility, and behavioral conditions such as attention deficit disorder. The US Food and Drug Administration says"BPA is safe at the current levels" commonly found in food packaging, though the US Centers for Disease Control and Prevention has found that nearly all people tested for BPA are carrying detectable levels of the chemical. Thus, the debate over acceptable levels of BPA are ongoing.
BPA is banned in baby bottles in the European Union, while France has abolished the chemical completely.
Major retailers like Walmart, Whole Foods and Target were also taken to task for their "private-label," or store brand, canned food.
"Grocery stores, big box retailers and dollar stores are not doing enough to eliminate and safely replace BPA in their canned food," the study said.
"In the aggregate, 62 percent of retailers' private-label canned food tested positive for BPA-based epoxy resins, including samples from the brands of popular retailers such as Albertsons (Albertsons, Randalls, and Safeway), Dollar General, Dollar Tree (Dollar Tree and Family Dollar), Gordon Food Service, Kroger, Loblaws, Meijer, Target, Trader Joe's, Walmart and Whole Foods."
The study said that national brands like Amy's Kitchen, Annie's Homegrown, Hain Celestial Group and ConAgra have transitioned away from BPA and have also disclosed what alternatives they use in their food packaging. Eden Foods, meanwhile, has eliminated BPA in 95 percent of its packaging, the report said. None of these companies had products that tested positive for BPA in the study.
Beyond BPA-based epoxy, the study identified four other coating types used in the canned food products: acrylic resins, oleoresin, polyester resins and polyvinyl chloride (PVC) copolymers. The study had no firm conclusion as to the safety of these alternatives.
"We know very little about the additives used in these compounds to give them the properties that make them stable and effective canlinings," the authors wrote. "Our research does demonstrate that there are multiple formulations of most of these compounds, but there is no way to determine the specific chemicals used or how they are produced."
You can share this story on social media: