Obama and Xi announce joining climate change pact, urge others to do so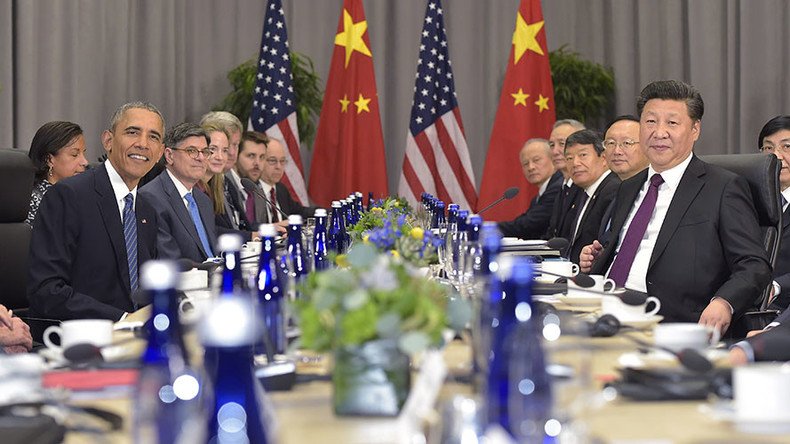 China and the US will sign the Paris Agreement on combating climate change next month, and urge other countries to do the same, presidents Barack Obama and Xi Jinping have announced. The two met on the margins of the nuclear summit in Washington.
"The United States and China will sign the Paris Agreement on April 22nd and take their respective domestic steps in order to join the Agreement as early as possible this year," the two presidents said in a statement published by the White House on Thursday. "They encourage other Parties to the United Nations Framework Convention on Climate Change to do the same, with a view to bringing the Paris Agreement into force as early as possible."
"Our two countries, with this joint statement, are making an important step forward in building on the success of Paris by urging and encouraging swift entry into force of that agreement," said Brian Deese, Obama's senior adviser, according to the Washington Post.
Proposed in December at a conference in Paris, the document aims to "strengthen the global response to the threat of climate change in the context of sustainable development and efforts to eradicate poverty, including by holding the increase in the global average temperature to well below 2 degrees Celsius [3.6 degrees Fahrenheit] above preindustrial levels and to pursue efforts to limit the temperature increase to 1.5 degrees Celsius [2.7 degrees Fahrenheit]."
If signed and ratified by 55 countries – which represent 55 percent of global carbon emissions – the agreement will enter into force in 2020. The signing ceremony is scheduled for April 22, which is also Earth Day, at the United Nations in New York.
China is the world's biggest emitter of carbon dioxide, due to its heavy coal use. However, China's emissions went down by 4 percent in 2015, thanks to coal cutbacks driven in part by efforts to combat air pollution. As a result, the global CO2 emissions decreased by 1 percent. European and US emissions have flattened out as more people switched to natural gas, solar and wind energy.
Meanwhile in the US, President Obama's Clean Power Plan, designed to cut emissions by 32 percent by 2030 and boost renewable energy use, has been thrown into legal limbo after the US Supreme Court ordered a stay of its implementation.
You can share this story on social media: