Makeshift drug-running submarine raided & sunk in US Coast Guard bust (VIDEO)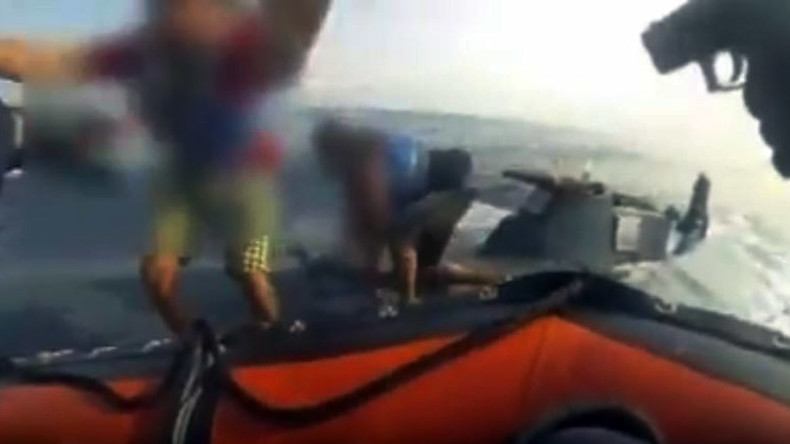 Sensational footage has emerged of the moment a US Coast Guard team armed with pistols captured and flooded a makeshift submarine smuggling $203 million-worth of cocaine.
Spotted from the air 300 miles off the coast of Panama on March 3 by a Customs and Border Protection plane, the self-propelled semi-submersible (SPSS) was swooped on by a coast guard crew based out of Alameda, California.
Video of the multi-million dollar drugs bust shows US guardsmen launching a surprise raid on the international cocaine trafficking ring's vessel in two interceptor boats with their guns drawn.
Two suspected traffickers are ordered to place their hands in the air, before two other men are apprehended inside the hull of the submarine.
Inside the submarine a huge haul of blow amounting to 12,800lb was discovered, along with a loaded gun in the cockpit.
The drugs cargo is believed to have been bound for Mexico along a smuggling route which has already seen authorities intercept five improvised submarines carrying illicit narcotics and weapons in the space of a year.
Semi-submersibles used by smugglers can be extremely unseaworthy, consisting of a half submerged hull, cockpit and exhaust pipe barely breaking the surface of the water.
The secretive narcotics sub was flooded, sinking to the bottom of the ocean following the major drugs seizure.
"Transnational organized crime groups continue to adjust their tactics to avoid detection indicated by a recent rise in the use of SPSS vessels," said Vice Adm. Charles Ray, of the US Coast Guard.
"Despite these efforts, we will continue to execute an offensive strategy that targets, attacks and disrupts these dangerous criminal networks."
A similar drugs run was stopped in January this year, when smugglers were pulled from a poorly-built submarine 280-miles southwest of the Mexican-Guatemalan border.