Michigan residents begin recall petition drive against Gov. Snyder over Flint water crisis
Published time: 28 Mar, 2016 15:46
Edited time: 28 Mar, 2016 15:53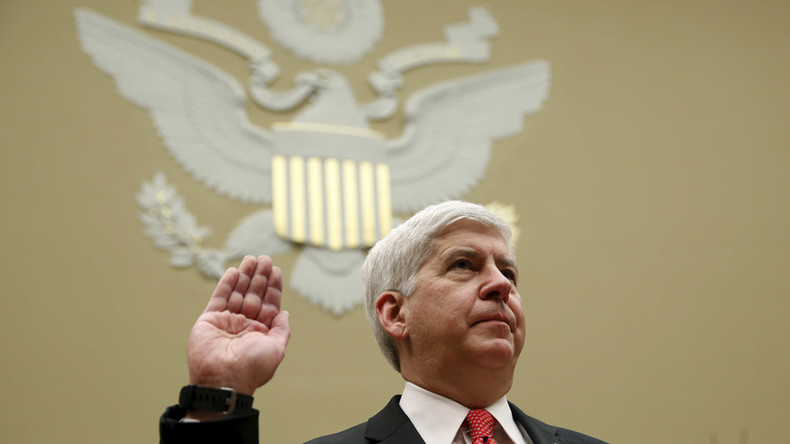 Michigan organizers behind a new petition seeking to recall Republican Governor Rick Snyder over the Flint water crisis have begun collecting signatures for their effort.
The petition drive began Sunday, but while Snyder has been heavily criticized over his administration's handling of the Flint water crisis, recall organizers will have to move quickly if their initiative is to have any chance of success.
Organizers will have only 60 days to gather 790,000 valid signatures from registered voters if they want the recall to make it on the ballot this November, the Associated Press reported. That's significantly more than the roughly 252,000 signatures needed to put a policy proposal up for consideration.
Multiple recall petitions have been proposed to Michigan's Board of State Canvassers, though most have been rejected at this point for various errors. The petition currently underway was authored by Rev. David Bullock of Detroit's Greater St. Matthew Baptist Church.
"It's not about Democrats. This is not about Republicans. It's not about whites or blacks. It's not about rich or poor," Bullock told WJBK. "You have all kinds of folks ‒ rural citizens, urban citizens, people of faith, people who are atheist, [of varying] sexual orientation ‒ we've got everybody. And you have to ask yourself this question: When everybody agrees, what does that mean? I think that means Rick Snyder's got to go."
Although the petition is seen as unlikely to be successful – neither the Democratic Party nor liberal-aligned groups such as labor unions are putting resources behind the effort – Snyder has seen his approval rating sink in the wake of the water crisis. A poll released last week found that 69 percent of likely Michigan voters disapproved of his job performance, and 52 percent had an unfavorable opinion about the governor.
Specifically regarding Flint, 69 percent said he was doing a poor job dealing with the crisis, which saw the city's drinking water supply become contaminated with lead in April 2014 after a state-appointed emergency manager switched from the Detroit water system and tapped the Flint River. Residents complained of dirty, discolored water immediately after the switch, but state officials insisted it was safe to drink for a year and a half.
On March 23, a task force appointed by Snyder to investigate the crisis found that responsibility for the crisis lies primarily with the state government and the emergency managers in charge of Flint. It stated that "ultimate accountability" rests with the governor.
"Neither the Governor nor the Governor's office took steps to reverse poor decisions by MDEQ [the Michigan Department of Environmental Quality] and state-appointed emergency managers until October 2015, in spite of mounting problems and suggestions to do so by senior staff members in the Governor's office," the task force said. "The significant consequences of these failures for Flint will be long-lasting. They have deeply affected Flint's public health, its economic future, and residents' trust in government."
As recall petitions were presented to the state for approval, Snyder's spokesperson said that such petitions are "part of the democratic process" and that the governor is solely focused on addressing the Flint situation. Two days before the task force report was released, Snyder announced a 75-point action plan meant to address the crisis, including raising water standards throughout the state and offering more healthcare support for children poisoned by lead.