#BirdieSanders: Crowd goes wild when 'dove in disguise' joins Sanders on podium (VIDEO)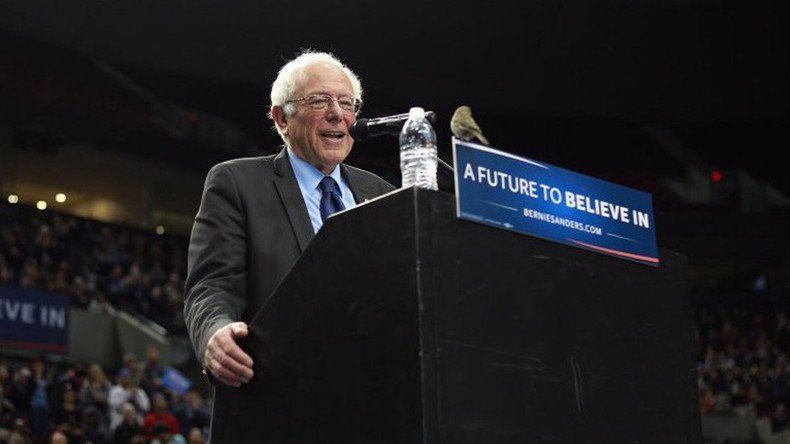 Mother Nature appeared to endorse Bernie Sanders for president through a surrogate bird, which landed in front of the Democratic hopeful during his speech at a rally in Portland, Oregon on Friday.
Sanders is hard at work trying to secure a much-needed trifecta of wins on Saturday in Hawaii, Alaska, and Washington State – and many of his supporters took it as a positive sign that luck - and nature - was on his side.
The crowd became momentarily distracted during the candidate's otherwise engrossing speech when all eyes went to the bird, who had just flown in and landed on the stage.
The new friends enjoyed a moment together as the crowd roared in delight. Potential VP candidate?
It then flew away to further applause leaving Sanders to remark that: "That bird is really a dove asking us for world peace. No more wars."
The moment sparked tweets with the trending hashtag #BirdieSanders.
Perhaps the bird was aware that Sanders is against the controversial and environmentally-destructive gas extraction technique called fracking, while his opponent Hillary Clinton "sold fracking to the world" when she was US Secretary of State.
Sanders is hoping that the bird is indeed a good sign as he desperately needs a Saturday sweep to help him narrow a gap of 300 delegates won in primaries behind Clinton, double the margin Obama held over the former New York senator in the 2008 primaries.
READ MORE: Primary preview: Sanders, Hillary face off for 142 delegates in Washington, Hawaii and Alaska

The Vermont senator had wins at caucuses in Utah and Idaho on Tuesday, but "lost" Arizona in a disputed election which awarded the most delegates.
READ MORE: Phoenix mayor urges DOJ to probe Arizona primary after voters claim 'election fraud'
Both Clinton and Sanders are concentrating on Washington for Saturday's primaries as a win there would mean more delegates than double Hawaii and Alaska combined.
While Sanders was campaigning in Washington, he sent his wife, Jane, to Alaska and Hawaii on his behalf.
Clinton held a conference call with Hawaii, but has not sent delegates and is campaigning in Washington.
Her supporters did get defensive about the #BirdieSanders hashtag, posting an old photo of Clinton with Sesame Street's Big Bird.
RT will have details of the election results as they are announced.
You can share this story on social media: