Getting out the vote becomes major priority for Muslim-American organizations
Published time: 26 Mar, 2016 03:44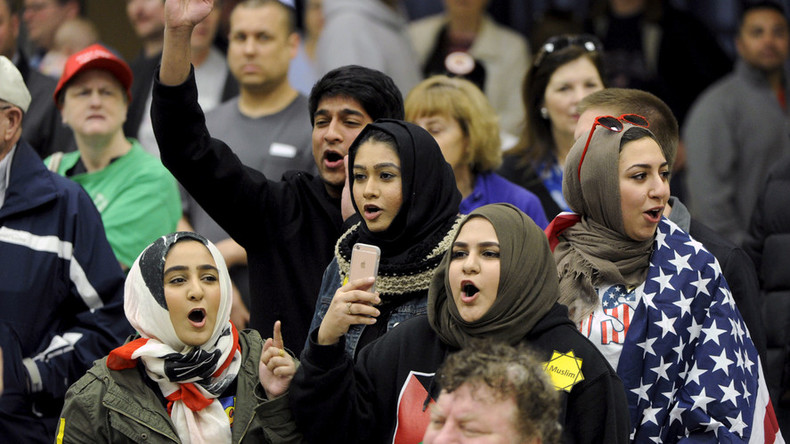 Anti-Muslim rhetoric wouldn't come up in presidential campaigns if it didn't work. However, calls for immigration bans and surveillance on Muslims could also inspire the 1.8 million adults in America who practice Islam to get out the vote, advocates hope.
Mosques could become voter registration centers this summer, especially during the Islamic holy month of Ramadan, from June 6 to July 5, if the advice of the Council on American-Islamic Relations (CAIR), the Islamic Circle of North America, and the US Council of Muslim Organizations is followed.
"We're seeing an energy that is largely motivated by anti-Trump sentiment," Colin Christopher, deputy director of government affairs at the Dar Al-Hijrah Islamic Center in Virginia, told the New York Times.
"The advantage of this is our community is going to put more resources to putting young leaders into the process," Christopher added.
Before the September 11, 2001 terrorist attacks, American Muslims tended to vote Republican, but a 2015 Pew Research Center poll found 70 percent of them call themselves Democrats. It's difficult in the era of Donald Trump, who recently said "Islam hates us," to see a near future in which that trend would swing back.
Believe it or not, however, there are Muslims backing Trump. Sort of.
Saba Ahmed is the president and founder of the Republican Muslim Coalition, but there hasn't been much simpatico between her and the Republican presidential candidates lately.
"Absolutely horrifying" was how Ahmed reacted to presidential candidate Senator Ted Cruz's proposition that police patrol "Muslim neighborhoods" following the terrorist bombings in Brussels.
"I'm not sure which neighborhoods he's talking about when he talks about surveilling Muslim-Americans," Ahmed told the Fox Business Network this week. "I'm really disappointed in a lot of the GOP presidential candidates."
"They're being advised by Islamophobic people," Ahmed continued. "Why are they not talking to any Muslims about Islam?"
Cruz had recently announced Frank Gaffney, a prominent peddler of Islamophobic conspiracy theories, as an addition to his foreign policy advisory team. So, what about the front-runner, Trump?
"I think it's time for all of us to come together behind his campaign and lobby him and campaign for him, and do the best we can to make sure that a Trump presidency is open and welcoming towards Muslims and Islam," Ahmed told The Islamic Monthly a week before the March 22 Brussels attacks. She added that a visit with Trump's campaign was likely to happen in April, which she would use as an opportunity to organize an appearance at a mosque for him.
Representing barely 1 percent of the US population, Muslims aren't a demographic to which presidential candidates typically cater. However, the swing state of Florida has the country's 7th highest Muslim population, according to a 2010 study released by the Association of Statisticians of American Religious Bodies.
"The best answer to this anti-Muslim rhetoric is engagement in the political process," Naeem Baig, president of the Islamic Circle of North America, told the New York Times. "It is a matter of survival for the American Muslim community."
In a non-scientific survey conducted by CAIR that was released last month, about 75 percent of Muslims registered to vote said they would exercise that right during the primaries. Two-thirds of them said they would likely vote for the Democratic candidate.