'We want change' – family of man killed by police releases video of shooting
Published time: 25 Mar, 2016 03:22
Edited time: 19 Dec, 2016 23:50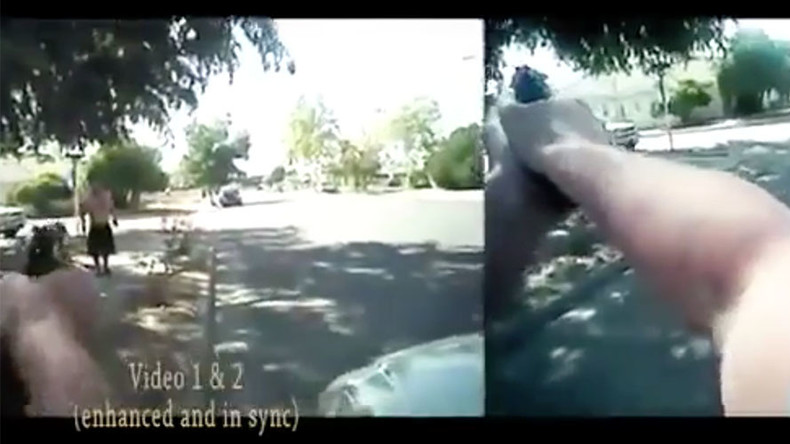 The family of Freddy Centeno, a mentally ill Fresno man shot by police in September, has released the footage of his death. The graphic video shows officers identifying themselves, commanding him to lie down, and then opening fire, all in mere seconds.
Officers from the Fresno Police Department (FPD) were responding to a woman's call claiming that a shirtless man had identified himself as a federal agent and threatened her with a gun. The cops responded wearing bodycams that would eventually record the death of Freddy Centeno.
When the officers arrived in a marked vehicle and tactical vests, they ordered Centeno to lie down on the ground with his hands up, but when he dropped them, officers shot him 9 times, according to the Fresno Bee. Based on the bodycam footage, the entire incident lasted less than 10 seconds. The ninth shot was fired as the 40-year-old man was already falling to the ground.
Centeno's brother, Roger, told the Bee that Freddy was bipolar, schizophrenic, and had drug problems. The police department had interacted with Centeno in the past and was aware of his problems, but the two responding officers were not, according to Fresno police Lieutenant Mark Salazar.
Officers claim that they opened fire when they saw Centeno's hand drop to his right front pocket, the same place the original caller had told police Centeno was keeping a gun. However, the object in Centeno's pocket turned out to be a nozzle for a water hose.
The Centeno family's attorney, Humberto Guizar, told the Bee, "I've been a civil rights attorney for 29 years, and I've never seen a police shooting this bad."
Fresno police disagree. According to Fresno Police Chief Jerry Dyer, the shooting became justified when Centeno reached for the black spray nozzle, which he said resembled a gun. In a press conference where he reviewed the footage, Dyer said "[The hose nozzle] clearly appears to be a handgun… and he begins to raise it, and that's when the officers feared for their life and fired their weapons."
Fresno Police Deputy Chief Robert Nevarez echoed Dyer's statements, telling The Bee, "The caller said a gun was in his right shorts pocket. Officers commanded him to raise his hands, and he grabbed for the object in his right front pocket and raised it towards them."
Centeno's family is pursuing a lawsuit against the city of Fresno and the two officers. They believe that the officers opened fire without giving Centeno a chance to obey commands. "He didn't have the chance to get on the ground you could count the time, until they stopped the car, one second, before they began to fire," Guizar said according to KFSN.
The lawsuit does not ask for monetary damages of a specific amount, but does ask jurors to award any damages that they believe is fair. "We want change," Guizar said.