In race with Trump and Clinton, Libertarian candidate polls in double-digits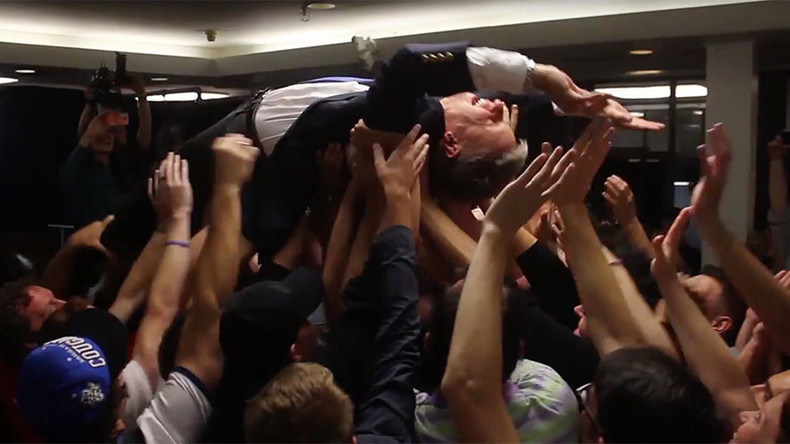 Presidential candidates often welcome the label of underdog, but 2016 could be the year a third-party contender polls high enough to be included in the general election debates. The Libertarian Party's Gary Johnson is not far from that goal.
In a hypothetical match up between Hillary Clinton, Donald Trump and Gary Johnson, the Libertarian candidate would walk away with 11 percent, according to a Monmouth University poll. If these numbers improve by 4 more percentage points and hold consistently, Johnson could become the first third party candidate to appear in a presidential debate.
It's been nearly a quarter-century since Ross Perot's 1992 independent presidential campaign, the last time a general election debate featured three candidates.
This is not Johnson's first time on the campaign trail. The former Republican governor of New Mexico ran for the GOP's nomination in 2012, before crossing over to the Libertarian Party that year. He received one million votes, a record for a Libertarian candidate.
The Commission on Presidential Debates – a private nonprofit corporation jointly run by Democrats and Republicans – requires that candidates must not only appear on a "sufficient number of state ballots" in order to prove their likelihood of winning the majority vote per the Electoral College, but must also attain "15% of the national electorate as determined by five selected national public opinion polling organizations."
Getting into the presidential debates has historically proven difficult for third-party candidates. At the 2016 Conservative Political Action Conference (CPAC), Johnson addressed the crowd with a request, saying, "you have the ability to do this: get me in the presidential debates," according to the Washington Times.
He went on to blame the Democrats and Republicans for the country's debt crisis, telling the audience, "I heard from many that they didn't want to waste their vote. Wasting your vote is voting for somebody that you don't believe in," before acknowledging that he himself isn't a household name and recommending the crowd Google him.
Johnson told the Atlantic that he had "no delusions of grandeur" about his presidential campaign, saying, "I think that at the end of the day, I will end up being the voice of reason in all of this."
In addition to Johnson, there are 13 other contenders for the Libertarian Party's presidential nomination. The official nominee will be selected at the party's national convention in late May.