'Western Tuesday' primary results: Arizona, Idaho, Utah
Published time: 23 Mar, 2016 02:59
Edited time: 23 Mar, 2016 06:02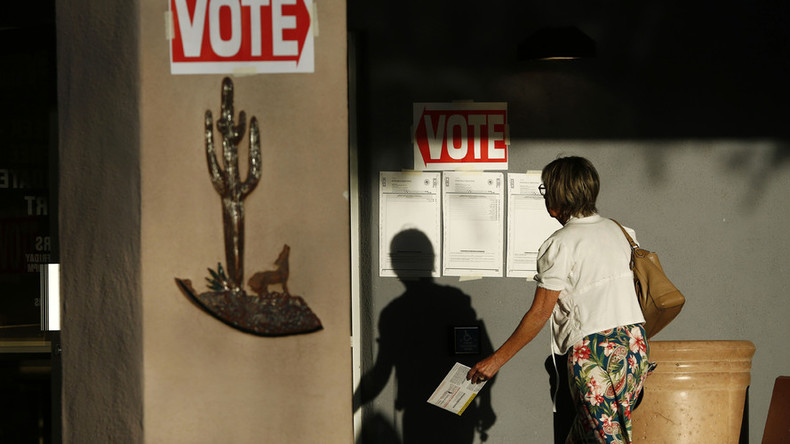 The battle for delegates has never meant more for challenger candidates like Sen. Bernie Sanders, Sen. Ted Cruz, and Gov. John Kasich as they compete against front-runners Hillary Clinton and Donald Trump in Arizona, Idaho, and Utah on "Western Tuesday."
Polls are closed in Arizona and Utah with early results expected any minute. Reload for live updates.
ARIZONA
Sen. Marco Rubio's supporters have had a week to think over Trump, Cruz, and Kasich since their candidate dropped out, and Tuesday will show where many of them go. There are 58 delegates at stake for Republicans in this winner-take-all primary.
With 1 percent of the precincts reporting, Trump was declared the winner with 47 percent to Cruz's 23 percent and Kasich's 10.8 percent.
On the Democratic side, 75 delegates and 10 superdelegates are up for grabs, meaning a major opportunity for Sen. Sanders to reverse former Secretary of State Hillary Clinton's momentum.
With 1 percent of precincts reporting, Clinton was declared the winner with 60.3 percent to Sanders' 38 percent.
Some Arizona voters waited hours, even past the official closing times, to get inside poll locations.
IDAHO
One of the states in which Sanders has set himself up for a comeback, Idaho offers 23 delegates and four superdelegates. A win here could offset last week's primary losses to Clinton or even blunt an Arizona victory should results not come out in Sanders' favor.
Turnout was bigger than expected, forcing some polling stations to print more ballots as voting took place, or in other cases, preventing voting from taking place at all.
UTAH
Clinton and Sanders are competing for 33 delegates and four superdelegates in the Beehive state, with Sanders shooting ahead with 75 percent of the votes.
For those hoping to prevent a Trump nomination, Utah was a critical state for Cruz to not only win, but to win with more than 50 percent of the vote, in order to take all of the state's 40 delegates. Anything less than 50 percent meant Cruz would share the delegates proportionally with Trump and Kasich, but the Senator had taken the lead over them with 59 percent.
Utah is technically a caucus state, though Republican rules allow for a quicker exit than the Democratic way does. In fact, not only are Republicans not obliged to stay around for caucusing, but many actually participated in the first-of-its-kind online voting for the primary.