Dozens of protesters arrested as Obama lands in Cuba for 'historic visit' (VIDEO)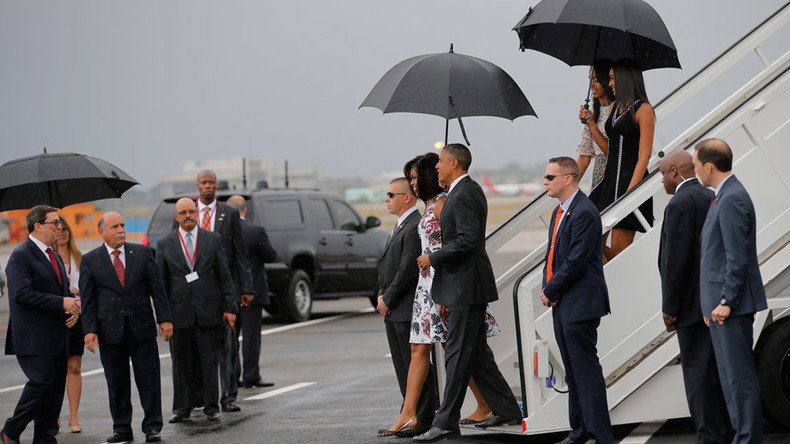 Cuban authorities have arrested more than 50 anti-government protesters just hours before Barack Obama's plane touched down in Cuba, marring the beginning of a rare three-day visit to the island nation – the first for a US president in almost 90 years.
Joined by his wife Michelle Obama and daughters Malia and Sasha on board Air Force One, US President Barack Obama arrived at Havana's airport late Sunday afternoon. He was greeted by some of the Cuban top officials, including Cuba's foreign minister and US ambassador, while an official meeting with President Raul Castro is set to take place later during the extraordinary three-day visit.
"This is a historic visit and a historic opportunity," the US President stated, when meeting with the staff of the US embassy in Cuba during his first stop in the country.
Just hours ahead of Obama's arrival, the Cuban police arrested more than 50 female activists during their weekly rally in protest of the detention of political prisoners.
The Ladies in White (Damas de Blanco) opposition movement members have been holding weekly rally each Sunday since 2003. After Mass in Santa Rita Church they silently walk through the streets dressed in white clothing to protest political imprisonments. Most members of the group face brief detentions after their weekly undertaking.
During their usual routine on Sunday, the Ladies in White tried to walk to other streets deviating from the route, where they encountered two counter demonstrations.
"No human rights violations," the group welcoming Obama on the island slogan read. The activists were also releasing copies of the Universal Declaration of Human Rights.
The other counter-demonstration of several hundred government supporters was carrying signs that read "All marched for a prosperous and sustainable socialism" and shouting "Fidel, Fidel."
Apparently, the Ladies in White joined the anti-government group rally, where they again as always got detained, although this time violently.
Violence was "brutal and there are people with fractures and bruises," Antonio G. Rodiles, a spokesman for DIARIO DE CUBA was quoted in Damas de Blanco statement, where they confirmed more than fifty arrests.
They were being dragged away by female police officers, alongside a number of men who were also detained by the police. One of those detained was Ladies in White leader Berta Soler.
No official explanation has yet been offered by the Cuban authorities, but the female movement was one of several groups which was invited to meet Obama on his visit to Cuba.
READ MORE: Obama plan to shut Guantanamo names no sites to replace Cuba-based prison – report
Obama's three-day trip to Cuba is the first visit by the US head of state in 88 years. After more than half a century of economic blockade, the two nations agreed to re-establish diplomatic relations December 2014.
You can share this story on social media: