Cops pepper spray Trump protesters during NYC march (VIDEOS)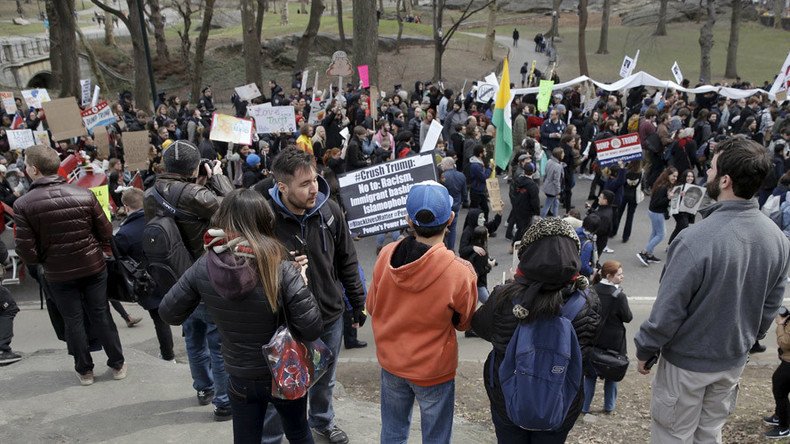 Police in New York pepper sprayed a crowd of protesters marching toward Trump International Tower on Saturday after pushing and shoving broke out between the NYPD and some of the protesters.
Videos of #CrushTrump protesters cleaning their irritated eyes emerged online after the large group clashed with NYC police officers.
"The police pepper sprayed the crowd indiscriminately," according to eyewitness James Woods, a journalist at US Uncut. "Multiple officers used pepper spray, at least two were arrested, including one photographer."
READ MORE: Trump defiantly speaks after protest blockade delays Arizona rally
Thousands of protesters held banners and signs as they walked from Central Park to the Trump Tower on 5th Avenue.
There was a heavy police presence from the beginning and cops shadowed the crowd as they walked through midtown Manhattan.
However, the situation escalated when police stopped the protesters from crossing the street at Central Park South, NY Daily News reports.
The protest - discussed on social media using the #CrushTrump hashtag - was reportedly organized by a group called Cosmopolitan Antifascists, along with pro-immigration groups.
In a statement posted to their Facebook page after the protest, Cosmopolitan Antifascists said that it wants to "make this coalition stronger with other groups and grow the city together with passion" in challenging "the tyranny" of Trump and "fighting for the rights of those in need."
READ MORE: 'You should have expected us': Anonymous leak Trump's public 'private data' in #OpWhiteRose
This latest protest is just one of many anti-Trump incidents to have occurred in the last week. On March 12, Police used pepper spray to disperse a group of anti-Trump protesters outside a Trump rally in Kansas.
On Tuesday, a Trump rally in Arizona was delayed after protesters blocked a major road in Phoenix. Once the rally did get underway, violence once again broke out.
This time between a Trump supporter and protester who was dressed like a member of the racist group the KKK, the attacker was subsequently arrested by police.
On Saturday, Donald Trump's son, Eric Trump, received a threatening letter containing a "granular" substance.
While secret service protection only applies directly to the presidential candidate at this early stage in the race, the US Secret Service and the FBI are investigating how the letter ended up inside Eric Trump's luxury Trump Parc East apartment.
READ MORE: Powder-filled envelope sent to Trump son investigated by FBI, Secret Service, Post Office, NYPD
You can share this story on social media: