Walden pond cabin built for Thoreau-inspired fracking pipeline protest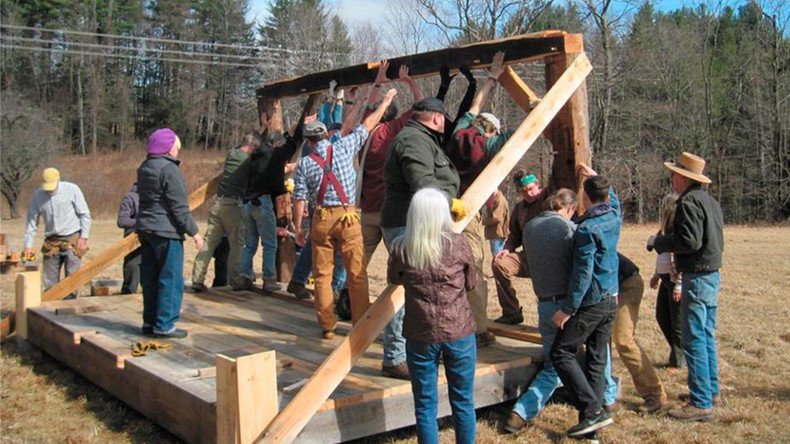 More than a century and a half after his death, early environmentalist and author Henry David Thoreau is still helping to defend nature, this time against a Texas company.
Taking a leaf out of his book, residents in Ashfield, Massachusetts constructed a cabin next to Walden Pond - in the path of a proposed pipeline for fracked gas.
Thoreau's famous cabin became a symbol of man living in harmony with nature, following the release of his iconic 1854 text Walden, or Life in the Woods.
Ashfield resident and timber frame builder Will Elwell decided to recreate the cabin to block the 700km potential environmental disaster being constructed by multibillion-dollar Texas company Kinder Morgan.
The 10 x 15 foot cabin was completed on Wednesday with Elwell, complete with a proper building permit sticker from the town, according to the Recorder. Residents have raised concerns over the effect the pipeline would have on the area known for its natural beauty, but say they have been largely ignored.
"In relation to this pipeline, the will of the people is not really being listened to, and we're just getting bombarded and railroad through without being empathetic to our concerns," Elwell told the Berkshire Eagle.
Thoreau documented the two years, two weeks, and two days he spent living in the cabin in Walden, now considered to be one of America's greatest works of literature.
Some 200 residents upset at the construction of the pipeline, which will pass through Ashfield and surrounding counties, commenced a march on Thursday along the proposed route of the structure.
The 85km trek will take around four days.
Thoreau's other notable book is Civil Disobedience, in response to his imprisonment for not paying the poll tax as a protest to America's system of slavery and the Mexican-American War.
It went on to inspire a century of rabble-rousers such as Mahatma Gandhi, Martin Luther King Jr, and Leo Tolstoy.
"Here, in this courageous New Englander's refusal to pay his taxes and his choice of jail rather than support a war that would spread slavery's territory into Mexico, I made my first contact with the theory of nonviolent resistance," King wrote in his autobiography. "Fascinated by the idea of refusing to cooperate with an evil system, I was so deeply moved that I reread the work several times. I became convinced that noncooperation with evil is as much a moral obligation as is cooperation with good."
You can share this story on social media: