Carter defends $583bn budget, says Russia now 'No 1 challenge', ISIS well down the list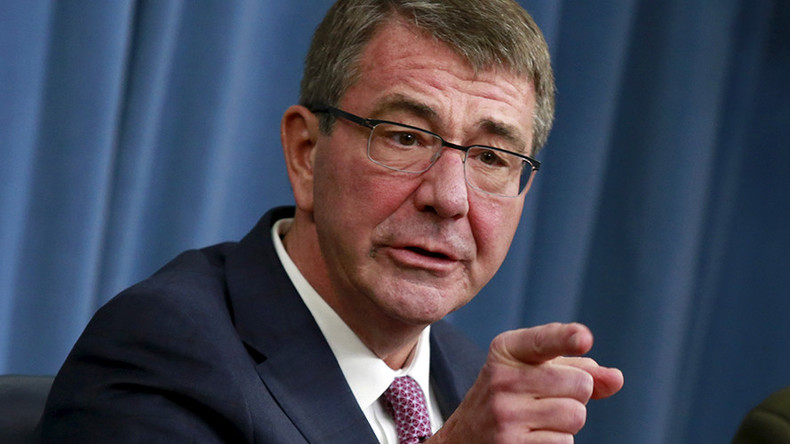 Russia is now the US' number one threat, followed by China, North Korea, Iran and Islamic State, Pentagon Chief Ash Carter said at a Senate hearing on the DoD's budget request. It comes as the Pentagon struggles to keep the budget to 2017 levels.
Challenges arising from the "great power competition" and Islamic State (IS, formerly ISIS/ISIL) still require a $583-billion military budget, Carter said at a hearing of the Senate Armed Services Committee on the 2017 defense budget request, according to a Pentagon press release.
"The first such challenge is in Europe, where we're taking a strong and balanced approach to deter Russian aggression – we haven't had to devote a significant portion of our defense investment to this possibility for 25 years, and while I wish it were otherwise, now we do," Carter argued.
The Russian Defense Ministry believes that calling Russia a primary threat has become a habit in Washington's top circles, as it happens every year prior to debate on the Pentagon's annual budget requests.
"It is not a thing to be impressed by," General Igor Konashenkov, spokesman for the ministry, said in February. "The reason is simple – the discussion of the military budget in Congress for the next year.One needs to remember that the 'Russian threat' has been the best-selling threat delivered by the Pentagon not only to Congress, but also to NATO partners since the middle of the previous century."
READ MORE: Top US general warns Congress military unprepared for 'great power war' while fighting terrorism
Carter's repeated warnings of the "Russian threat" are echoed by a chorus of top commanders and military officials, who recently lamented what they called America's unpreparedness to counter Russia or China at sea, land and in the air.
On Thursday, Army Chief of Staff General Mark Milley told the House that the military's ability to counter any two out of China, Iran, North Korea and Russia at a time is depleted. "I think the cost, both in terms of time, casualties in troops, and the ability to accomplish military objectives would be very significant."
Earlier in March, commanders of US forces told the Senate they needed more funding to procure "very expensive" ballistic missiles, as Russian strategic rocket forces "are the only foreign military threat that could imperil our nation's existence."
Russian and Chinese policies are seen by the Pentagon as a return to the Cold War era, therefore justifying the need for a giant military budget.
In 2014, President Barack Obama listed the "Russian threat" only second after Ebola virus. IS, which had been gaining momentum in Iraq and Syria, surprisingly was number three on the list. Russian Foreign Minister Sergey Lavrov said Obama's ranking of global threats looked bizarre: "That's the worldview of a country that has spelt out its right to use force arbitrarily regardless of UN Security Council's resolutions or other international legal acts in its national defense doctrine."
READ MORE: Money, missiles & Guantanamo: Senate hears from US admirals
This year IS appeared at the very end of the Pentagon's priorities list. The terror group was eclipsed by China, Iran and North Korea respectively, all described as "aggressive" countries.
Retired US Air Force Lieutenant Colonel Karen Kwiatkowski told RT that portraying Russia and China as top threats is a justification of supporting arms sales and corporate sponsors. "I do believe that this is a justification for us to continue the flow, the pipeline of taxpayer money into these major weapon systems and their corporate sponsors, which of course are heavily influential."