House endorses legal challenge to Obama's action on immigration
Published time: 18 Mar, 2016 05:47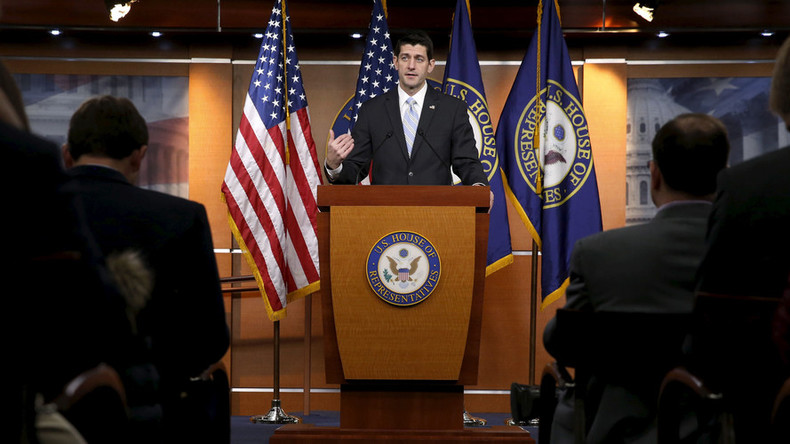 House Republicans will file an amicus brief in a lawsuit contesting President Obama's executive action on immigration after a largely partisan vote backed the 26 states questioning the constitutionality of his policy.
The House endorsement, in a Thursday vote of 234-186, authorizes House Speaker Paul Ryan (R-Wisconsin) to file a friend-of-the-court brief in a lawsuit brought by Texas and 25 others states arguing the president overstepped his authority on action over immigration.
"It is about the integrity of our Constitution," said Speaker Ryan on Thursday, according to AP.
Ryan maintains that any changes in the immigration system rest with legislation by Congress.
"Those lines, that separation of powers, could not be clearer. But in recent years, the executive branch has blurred those boundaries, to the point of overstepping them altogether," Ryan added.
House Republicans say the legal battle and their vote aren't about immigration, but whether Obama has the power to provide an amnesty program to people living in the country illegally.
Democrats say the vote is a political stunt disguised as a legal brief.
"Why does the majority party not just say they want? They want millions of immigrants deported," Rep. Louis Guitterez (D-Illinois) told NPR.
Some Republicans did not support the House friend-of-court brief. Six Republicans voted with Democrats opposing the measure: Rep. Carlos Curbelo (Florida), Rep. Mario Diaz-Balart (Florida), Rep. Ileana Ros-Lehtinen (Florida), Rep. Robert Dold (Illinois) and Rep. Richard Hanna (New York).
Congress has resisted President Obama's calls that the legislative body act on immigration. A Senate bill that would have overhauled immigration by increasing visas for legal immigrants and creating a path for citizenship for 11 million immigrants living in the country illegally was stalled in the House.
In October 2014, Obama announced that people who had been in the US for more than five years and who had children in the country legally could "come out of the shadows and get right with the law," under the Deferred Action for Parents of Americans and Lawful Permanent Residents, or DAPA. He also expanded a program that offered protections to people who came to the US illegally as children.
The announcement outraged Republicans who accused Obama of executive overreach.
Shortly after that, 25 states joined United States v. Texas, challenging Obama's actions in unilaterally expanding programs for immigrants.
The Supreme Court is set to hear arguments next month with a possible ruling in June.