There's a map for that: Google maps help illegal immigrants locate border checkpoints
Published time: 18 Mar, 2016 03:43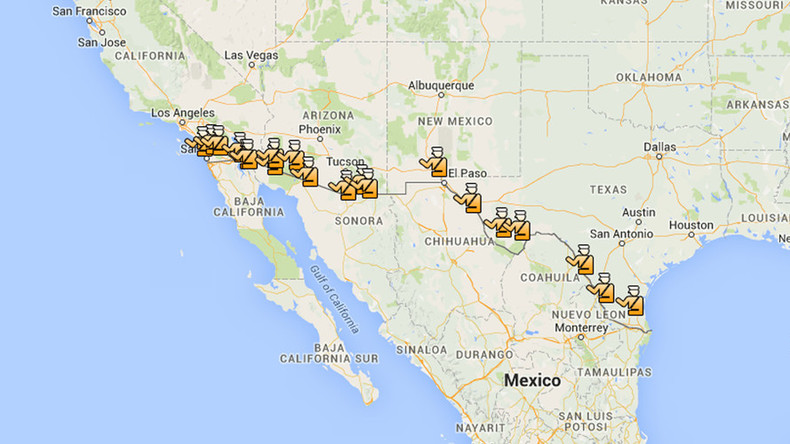 Some politicians may want to build a wall between the US and Mexico, but they can't put a border on the internet. User-published Google maps show locations of border patrol checkpoints, even including the mile markers they're stationed at.
"Mile Marker 102 - I-10. Checks all Eastbound traffic. Five miles West of Sierra Blanca," reads one bulletin on the "Routes to Avoid - Border Patrol Checkpoints" Google map. With a total of 20 pins on the map, it creates a rudimentary way to plan entry into the US without having to get through border patrol. That map is just one of many.
Clicking on "Related Maps" reveals numerous others adhering to the same principle. Another map with over 2,000 views is simply titled "Border Patrol" and has 72 border patrol stations pinned. That may sound like a lot of views for a map, but the "Routes to Avoid" map has over 630,000.
The maps were created with Google My Maps, a program that allows its users to customize maps and share them. The internet has been used as a way to tunnel around rules and regulations, prominent examples being the Silk Road, used for drug sales, and Craigslist, used for everything from prostitution to hiring hitmen. It was only a matter of time until web savvy users managed to use Google as a workaround for immigration issues.
Earlier this year, the US Department of Homeland Security began mass deportations of undocumented immigrants from Central America, detaining 121 people in Georgia, Texas, and North Carolina alone. With the increased scrutiny on immigrants, these maps are just one of many ways that immigrants and their supporters can stay one step ahead of border patrol and US Immigration and Customs Enforcement.
United We Dream, an immigrant youth-led organization in the US, has partnered with Latino Rebels to combat ICE raids with the MigraMap. Witnesses who see ICE raids and deportations are encouraged to report raids, detentions, and any other information. The descriptions paint a picture of the raids, such as "ICE raids in unmarked cars knocking on peoples doors in the Bloomfeild neighborhood," and, "My husband was cut off by an unmarked car in Bridgeton. He honked at them and was pulled over. He called me and I listened on the cell phone while ICE agents questioned him about his status. (He's illegal but I'm petitioning for him). They printed him on an ipad and let him go because his prints did not show any ICE warrants."
The adage, "where there's a will, there's a way" could prove true for immigration. Despite Homeland Security's attempts to increase border control, it seems that the rapidly evolving tech industry could help immigrants stay one step ahead.