Google selling its Boston Dynamics robot division ‒ reports
Published time: 17 Mar, 2016 21:48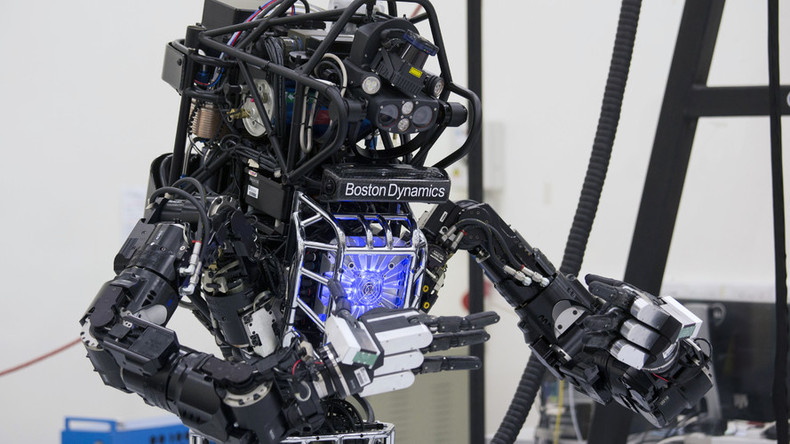 The robot uprising may have to wait awhile: Reports say that Google's parent company, Alphabet, is selling off Boston Dynamics, makers of the canine and humanoid robots that have recently captivated the headlines.
Boston Dynamics is behind Atlas – an extraordinarily agile humanoid robot capable of walking upright and navigating a range of obstacles – as well as Spot, a four-legged mechanized hound.
The company was bought up in 2013 by Google's robotics division (dubbed "Replicant" after the synthetic humans from the cult classic 'Blade Runner'). Following the 2014 departure of division chief Andy Rubin, however, Replicant has struggled to integrate operations that are scattered around the country, according to a new report by Bloomberg Business.
At a November 2015 meeting, Alphabet executive Jonathan Rosenberg said a startup of their size "cannot spend 30-plus percent of our resources on things that take ten years," according to documents obtained by Bloomberg.
Replicant was folded into Google's research division, named Google X, in December 2015. According to a source present at a meeting around that time, Google X chief Astro Teller told employees that they may be reassigned to other projects if the company decided robotics were not the "practical solution" to problems it was trying to solve, Bloomberg noted.
According to Bloomberg's source, automobile giant Toyota and Amazon.com are considered as possible buyers for Boston Dynamics. Google and Toyota declined Bloomberg's requests for comment, while Amazon did not respond.