Terrier shows Google robo-dog who's the boss (VIDEO)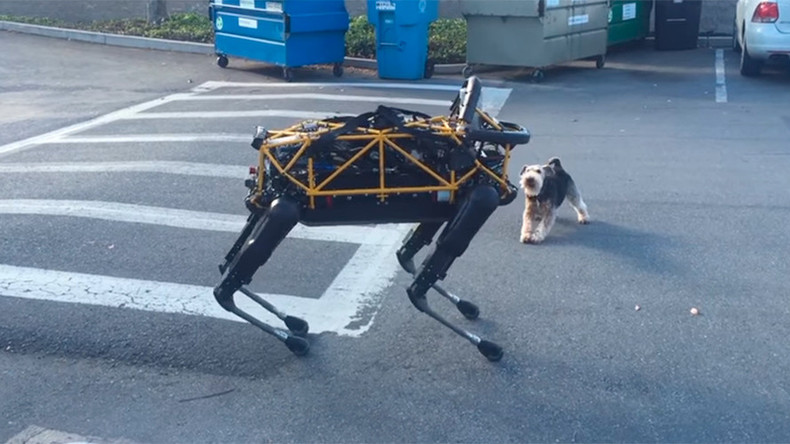 Google's robot dog 'Spot' has received his first experience in canine rivalry, after the mechanized pet got 'trash-barked' by an agitated terrier unwilling to surrender his turf to the suspicious intruder.
A truly futuristic scene played out in front of the camera when the terrier allegedly belonging to Android co-founder Andy Rubin was unleashed on the artificial four-legged creature.
Captivated by Spot's realistic movement, the real canine would not let the robot pass. Chasing and barking non-stop, the terrier seemed to enjoy the interaction, to the cheers of a Google-owned engineering company, Boston Dynamics' crew, who applauded the dog's playful spirit.
The adorable yet strange experience has been captured on video and posted by Stephen T. "Steve" Jurvetson, an American venture capitalist. The businessman also posted a second video from the series showing Spot running around in a parking lot.
Spot is the creation of robotics company Boston Dynamics. Spot is the latest addition in a line of high-end robots being designed and developed for the US military with funding from the Defense Advanced Research Projects Agency (DARPA).
READ MORE: Google's new robo-dog stalks premises, withstands hard kicks (VIDEO)
The robot canine, which was unveiled last February, weighs about 160 lbs and runs on an electric engine. It is designed to operate both indoors and outdoors and is known for its life-like movements