PAWS: Republican lawmakers' bill would give veterans puppies for PTSD
Published time: 17 Mar, 2016 14:40
Edited time: 17 Mar, 2016 14:40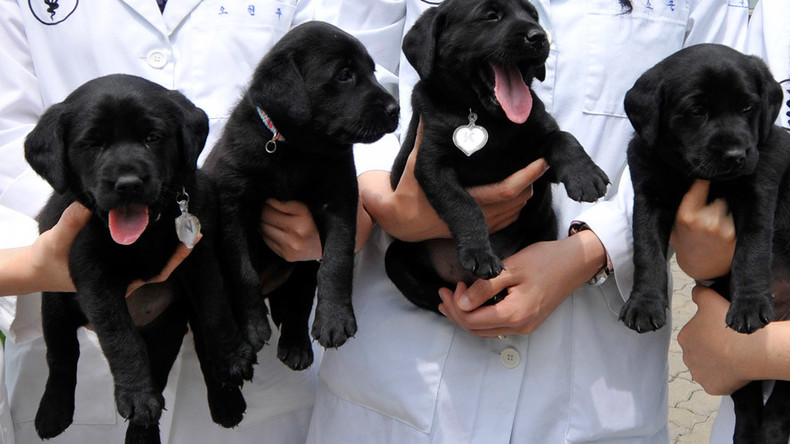 Republican lawmakers have introduced a bill that would create a five-year pilot program pairing veterans suffering from post-traumatic stress disorder with a service dog.
"I think we have a chance to save lives," Rep. Ron DeSantis, (R, Florida) a naval reserve officer, told the Blaze on Wednesday about the bill he is sponsoring. "When you look at some of these veterans who are suffering from post-traumatic stress, the counseling, the drugs, it doesn't work for everybody."
The Puppies Assisting Wounded Service members (PAWS) Act creates a five-year pilot program pairing a dog with a veteran suffering from PTSD or a traumatic brain injury. Veterans would have to complete evidence-based treatment and "remain significantly symptomatic by clinical standards" in order to qualify for the program, according to the bill's text.
"We must make sure that all of our returning service members are honored and taken care of, no matter the wounds they bear," DeSantis added.
The PAWS Act is the brainchild of Cole Lyle, a Marine Corps vet who spent six years fighting overseas. He obtained a service dog with the help of his family and said he would not be here today if it hadn't been for Kaya, his dog.
"I do believe that this [program] will help reduce the number of veteran suicides, which is still a horrible, horrible thing that veterans deal with every day — the loss of their own brothers," Lyle told the Blaze. "It's something I continue to struggle with, but with Kaya, she really helps me in transitional periods of my life, difficult moments in my life, and without her I don't think I would be where I am today, so I have a personal interest in this policy solution and making it happen."
Lyle said in a previous interview that one thing a dog does that a pill can't is "give you a sense of purpose again."
The legislation calls for the Government Accountability Office to track the program and measure its effectiveness.
Lawmakers said the bill, which requires $10 million in funding, would be funded from the Department of Veterans Office of Human Resources and Administration.
"It makes sense; we're not spending any more money; we're just redirecting money out of the bureaucracy to the veterans," DeSantis explained, adding that he hopes to see the bill pushed through Congress "quickly."
The Veterans Administration has endured a series of scandals and scathing criticism from lawmakers, veterans, and whistleblowers over the shoddy level of care it provides for veterans. The Office of the Inspector General found in September that the department had a massive backlog of nearly 900,000 healthcare applications waiting to be approved and that more than 300,000 veterans had died waiting for approval.
The VA provides $95 billion worth of entitlements each year, including healthcare, education and training, disability money, pensions to veterans and their surviving spouses, and burial benefits. According to the agency's own figures, from 2008, of the 24.3 million total military veterans, only 8.5 million or 36 percent were receiving benefits and services.