Israeli boycott blowback: California bill seeks to ban state contracts with pro-BDS companies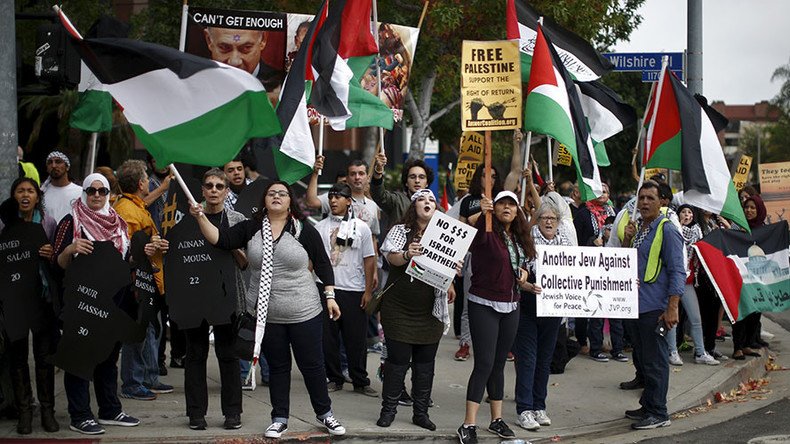 The worldwide Boycott, Divestment, and Sanctions (BDS) movement faces push back from a Republican lawmaker in California, who proposes a state ban on contracting with companies which support the successful campaign against the right-wing Israeli government.
READ NOW: 'Don't demonize Israel': Canada passes anti-boycott motion
BDS, which mirrors the anti-apartheid movement of South Africa, has become the target of the Israeli government and its global allies after costing the country's economy up to $4.6 billion every year, according to estimates by the Rand Corporation.
Bill 1552 would require companies aiming to hold California state contracts to clarify they are not boycotting any member state of the World Trade Organization, which includes Israel.
Leading the bill, Republican Assemblyman Travis Allen accused the BDS movement of being "anti-Semitic" even though it is backed by thousands of left-wing Jews.
Allen said California and Israel would continue to have close ties.
"California and Israel have historically stood together as allies due to our unique bond founded on shared values, a bilateral trade relationship, and our unwavering commitment to freedom and democracy," he said. "It is unconscionable for our state to do business with companies that play politics and boycott our critical allies."
Israeli politicians have also voiced support for the California bill, including the Knesset's deputy speaker Yehiel Bar, who said more states should oppose the BDS campaign.
BDS supporters have continued to push for Palestinian rights across the US despite calls from Israel to stop the boycott.
READ NOW: Security firm G4S divests from Israel, denies caving to BDS movement pressure
You can share this story on social media: