'Crime of epic proportions': Congress grills ex-EPA, Flint emergency manager over water crisis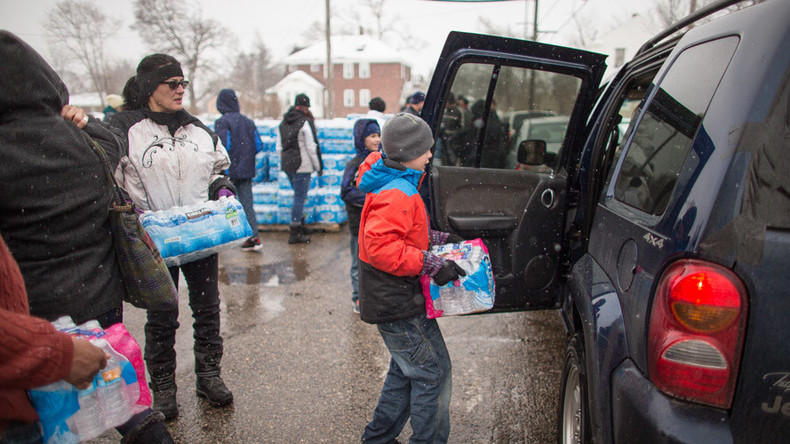 US lawmakers blasted authorities for months of inaction on the lead water crisis in Flint, Michigan and for failing the community, heavily criticizing the former Flint emergency manager and former regional head for the US Environmental Protection Agency.
The US House Oversight and Government Reform Committee conducted its second hearing on the Flint water crisis Tuesday morning, questioning former EPA Region 5 Administrator Susan Hedman on why she didn't direct the agency to do more to help a city that fell within her jurisdiction. Hedman said the EPA knew Michigan was not properly treating water with corrosion controls back in April 2015, but did not publicly say anything despite the fact that treatment was not applied until December.
As the crisis wore on and corrosive water continued to leach lead from the city's aging pipes, young children began showing elevated levels of lead in their blood, poisoning that could cause permanent brain damage, learning disabilities, and other problems.
"This is a crime of epic proportions," Rep. Ted Lieu (D-California) told Hedman.
"There's a special place in hell for actions like this," added Rep. Buddy Carter (R-Georgia) regarding Hedman's reaction and the EPA's lack of action.
In her testimony, Hedman said it was not the EPA's fault that officials in Michigan didn't treat the water being delivered to Flint homes and businesses, and that the agency reacted properly, the Detroit Free Press reported. She blamed an "imperfect statutory framework" for keeping the EPA from being more aggressive in its response. During questioning, she said the agency warned residents to get their water tested.
Additionally, she blamed "false allegations" for leading to her resignation in the wake of the scandal, though she did acknowledge that the crisis "happened on my watch."
Lawmakers, however, were unconvinced. A memo written by EPA water expert Miguel Del Toral in June 2015 highlighted the potential for dangerous levels of lead in Flint's water – levels that were rising ever since the city decided to switch from Detroit's water system to the Flint River, purportedly for monetary reasons. Yet the Michigan Department of Environmental Quality (MDEQ) continued to insist the water was safe to drink, and the EPA did not dispute the claim.
In September 2015, Del Toral wrote an email blasting the EPA's response. "At every stage of this process, it seems that we spend more time trying to maintain State/local relationships than we do trying to protect children," he wrote.
During the hearing, Rep. Jason Chaffetz (R-Utah) produced an internal EPA memo featuring an employee saying, "I'm not so sure Flint is the community we want to go out on a limb for," the Washington Times reported.
"Are you kidding me?" Chaffetz said to Hedman. "Why isn't Flint the community they go to? Of all the communities, the community having trouble is the one you go all out for."
Virginia Tech researcher Marc Edwards, who helped expose the toxic water, also rebuffed Hedman's testimony by saying studies into corrosion control treatment should have been done months before any drinking water switch was made. He said the lack of action led to contamination, poisoning, and an outbreak of Legionnaires' disease in the city.
"Had they done the minimum under the law," Edwards said, "the vast majority of these problems…would not have occurred."
Instead, Edwards said EPA and MDEQ worked "hand in hand" to cover up the situation. He also disputed Hedman's claim that the EPA issued warnings to residents to have their water tested.
"No Flint resident got any warning," he said. He called the EPA leaders "completely unrepentant and unable to learn from their mistakes," adding that Hedman "allowed Flint's children to be harmed."
While Hedman was grilled over the EPA's role in the situation, she wasn't the only one placed under the microscope. Former Flint emergency manager Darnell Earley, appointed by Michigan Governor Rick Snyder, testified that he was "totally dependent" on analysis and assurances from state and federal officials.
"It would have been unreasonable ... to reject their guidance and attempt to make independent rulings on a highly sophisticated and scientific subject matter," he said.
Earley acknowledged that the water was contaminated under his watch. He was accused of not engaging the public – which complained about the water immediately after the switch to the Flint River – and for answering only to the bottom line. When asked by Rep. Brenda Lawrence (D-Michigan) about where the "lies" started, Earley said he relied on state regulatory agencies to make decisions.
Another hearing is set for Thursday, when Michigan Governor Rick Snyder and EPA Administrator Gina McCarthy will testify.