Ford upgrading bulletproof doors on police cruisers
Published time: 11 Mar, 2016 19:55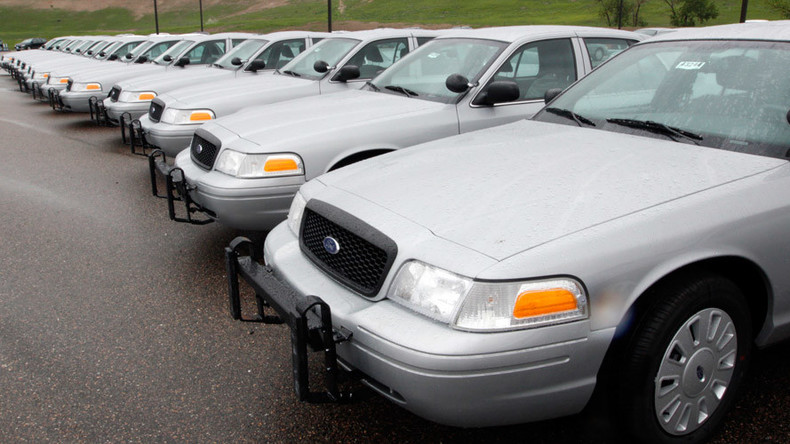 Ford Motor Co. is improving bulletproofing standards for its Police Interceptor line of sedans and SUVs, making them able to withstand armor-piercing bullets from high-powered rifles like an AK-47.
The upgraded Ford vehicles will be the first in the US to meet a top standard set by the US Justice Department for body armor. New ballistic panels will be designed to handle armor-piercing ammunition; since 2008, Ford has offered panels that could only absorb handgun or non-armor piercing bullets.
"Officers, globally, told us they needed protection from armor-piercing ammunition, and we added ballistic protection to an already great product," said Arie Groeneveld, chief engineer for Ford's police car lineup, according to USA Today.
A Ford engineer told AP that police forces – particularly in the Middle East and Eastern Europe – had requested increased bulletproofing.
"In some places outside the U.S., they face the armor-piercing threat on a daily basis," Ford's Randy Freiburger said. "This is the price of entry for those markets."
More than a year in the making, the ballistic panels will cover most of a vehicle's individual doors with two layers of protection. The outer layer is made of ballistic-grade ceramic tile that is designed to shatter a bullet on impact, while the inner layer is made of the same material used to make Kevlar vests, enveloping shrapnel from a bullet.
If a car panel is struck twice by bullets, it will still offer some protection, Ford said.
Windows on the new car door panels will not come with ballistic protection, the company said.
The door panels will not be made available to the public, the company said, adding that panels should be destroyed once a car is discarded by police.
In 2015, Ford held 60 percent of the market for US policing vehicles. Costs for a Ford Police Interceptor SUV have been at least $30,000. The company will begin taking orders next week, USA Today reported, but no pricing levels have been disclosed.