Guns used by San Bernardino shooters were bought legally in US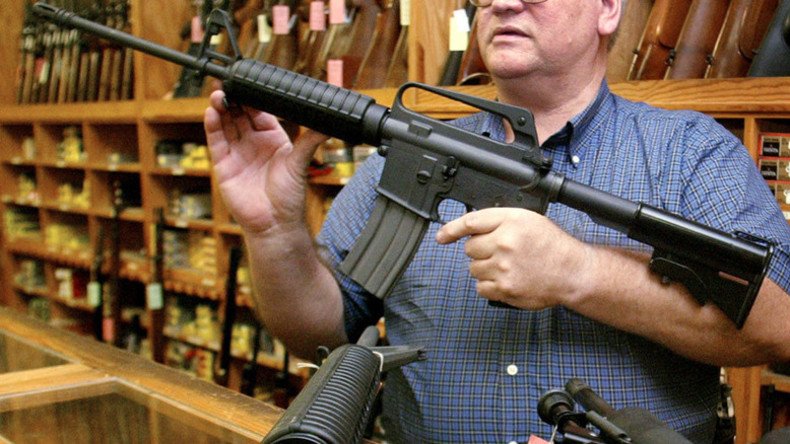 The guns used during the San Bernardino shooting were purchased legally in the United States, an ATF spokesman said, as authorities continue to piece together the events of the Wednesday morning massacre.
This is the latest information to come from the scene of the mass shooting at the Inland Regional Center, where husband and wife Syed Farook, 28, and Tashfeen Malik, 27, murdered 14 people, injuring 17 others. The parents had left a six-month-old daughter behind with her grandmother before embarking on their mission.
READ MORE: 2 suspects dead in San Bernardino mass shooting, both identified
The pair used two assault rifles, which the police identified as a DPMS model and a Smith & Wesson MMP 15. They also had two semi-automatic hand guns, manufactured by llama and Smith & Wesson, according to San Bernardino Police Chief Jarrod Burguan.
Now federal agencies say the two assault rifles and two handguns used in the bloodshed were perfectly legal purchases. Two of the weapons were purchased by someone who is now being investigated, authorities added, according to ABC.
The rifles were .223-caliber, compatible with 5.56mm NATO standard, considered powerful enough to pierce a bulletproof vest. Used in conjunction with armor-piercing rounds, the damage would be even greater. Earlier police and FBI admitted that the level of preparedness and the equipment used suggested a certain degree of planning, while they stopped short of calling the mass shooting a terrorist attack.
Investigators are now trying to build a trail to the last legal purchaser, according to Meredith Davis of the Bureau of Alcohol, Tobacco, Firearms and Explosives (ATF). Davis adds that all four firearms had been bought four years ago. She did not divulge information on where exactly they were bought and at what point they ended up with Farook and Malik.
According to Davis, the issue with tracing purchases in other states is that not every state, like California, has a law regarding paperwork when private gun exchanges take place.
President Obama has once again raised the issue of gun control in the US, emphasizing that no other place on Earth can match the country in terms of gun crime.
A report this year has alleged that, despite the overwhelming support for stricter gun regulation, the majority of Americans polled on the question actually favor ownership over control. According to the poll by the Pew Research Center, some 52 percent of Americans believe the Second Amendment needs to be protected, while a more modest 46 percent were in favor of controlling gun ownership.
READ MORE: More than 1 shooting per day in 2015 in US
In 1993, the number in favor of control was almost twice that of those against, with 57 and 34 percent, respectively. Also, today a total of 63 percent believe having a gun in the house makes them safer – a statistic the pollsters attribute to rising crime rates.
The shooting in San Bernardino marks the 352nd time guns have been used for mass killing in the US in 2015, according to ShootingTracker.com.
You can share this story on social media: