Virus gone wild: Spring breakers could cause Zika outbreak, health officials warn
Published time: 10 Mar, 2016 23:54
Edited time: 10 Mar, 2016 23:56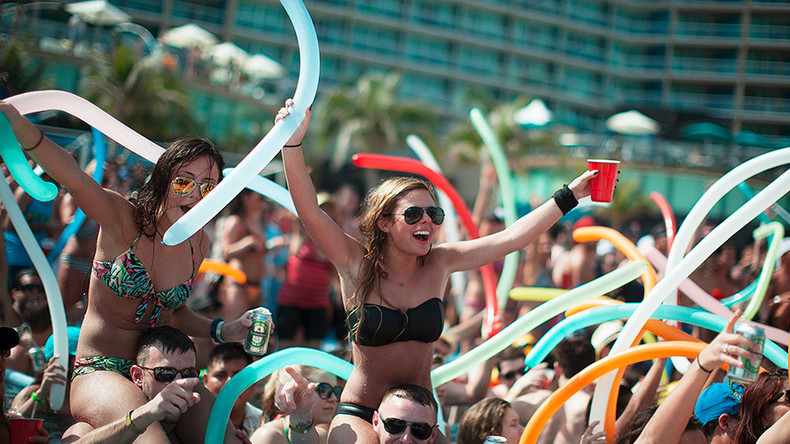 As many college students get ready to unwind on spring break, health officials worry that those jetting off to places like Mexico or the Caribbean could bring back more than just a hangover and a tan, fearing the Zika virus could accompany them as well.
Authorities in Texas have urged young travelers to be extra cautious if holidaying in Zika affected countries, as they do not want the mosquito-borne disease spreading further.
"It is possible to bring Zika home back into the United States," said Vinny Taneja, Public Health Director for Tarrant County in north Texas. "And after spring break, I mean, we've got thousands and thousands of people visiting all over the place, so that can happen."
There have already been a number of cases reported in Texas, with all those affected bringing it back from recent travels. Meanwhile experts are increasingly worried about the virus being spread sexually.
READ MORE: At least 14 new cases of 'possible sexual transmission' of Zika virus – CDC
Health bosses in Dallas County have said they know of at least one patient within the state who they believe contracted the virus by having sex with a fellow traveler, the Dallas Morning News reported.
Jon Porter, health director at the University of Vermont, has also urged students to "do what they can to prevent getting bit by a mosquito or having a sexual encounter where they may be open to contracting the virus."
College students, on the other hand, are less worried about the virus.
"I didn't hear about the virus until after I purchased the tickets," said Virginia Tech senior Tassbieh Hassan. "I got nervous at first because Zika was spreading to the places we are going, but after learning that it mainly affects newborns, I think I will be all right."
"I'm not going to let it affect my trip, but I'll be careful about what I do in Cancun," said Kyle Ferguson, a senior at the University of New Hampshire.