Historic floods claims 3+ lives, force thousands to evacuate in South
Published time: 10 Mar, 2016 22:31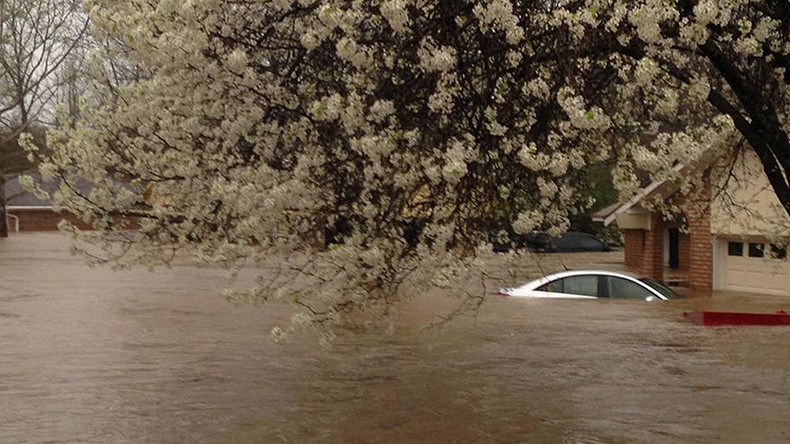 At least three people were killed and thousands forced from their homes as a second round of severe rains poured down in parts of the South. The National Weather Service is calling the flash flooding a historic event.
Rivers rose to near-record levels, resulting in cars and homes near Shreveport, Alabama being submerged by several feet of water. Flood conditions are expected to last until early Saturday in northwestern Louisiana.
Governor John Bel Edwards declared a state of emergency in 16 Louisiana parishes, with the National Guard being called in to assist evacuation efforts after the rains began on Wednesday morning.
Spokeswoman Rebekah Malone says that the Guard evacuated 361 people in Louisiana's Bossier, Morehouse, and Ouchita parishes, according to Fox News.
A 75-year-old man drowned on Wednesday afternoon near Lucky, Louisiana while attempting to drive through a flooded highway. A female passenger driving with him managed to be pulled to safety, but is suffering from hypothermia, The Weather Channel reported.
Officials ordered the mandatory evacuation of 3,500 homes as a precaution as the water in a nearby bayou was approaching the top of its levee.
"After a while, with more rain coming in, we're probably not going to be able to get in and out of our neighborhood because a lot of it is under water," resident Jennifer Williams told KTBS. "A lot of the homes are under water."
Authorities in the Texas counties of Harrison and Marion, located to the west of Shreveport, also issued evacuation orders due to the severe rains, with flooding expected to continue through Sunday.

"We expect some areas to get 15 inches plus of rain," National Weather Service forecaster Bob Oravec said, according to Reuters. "It looks like a pretty bad situation."
A 22-year-old man was killed in southeastern Texas on Sunday night when his kayak capsized, according to AP. He was not wearing a life jacket, police said.
A 30-year-old man drowned in his SUV in Southwest Oklahoma on Tuesday night while trying to cross a bridge covered in floodwaters, according to Reuters. A passenger in the vehicle managed to swim to safety.