Active shooter warning system introduced by Michigan lawmakers after Kalamazoo tragedy
Published time: 10 Mar, 2016 18:26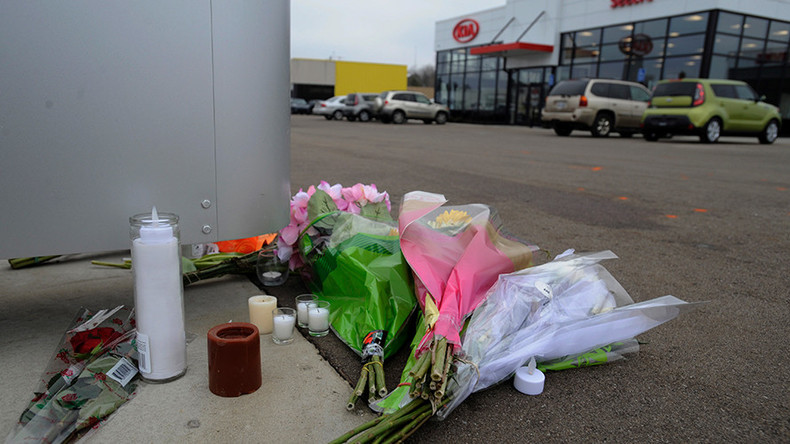 In the wake of a deadly shooting spree in Kalamazoo, Michigan, two state lawmakers are looking to establish an "active shooter alert system" in order to warn residents when a gunman is known to be on the loose.
State Representative Jon Hoadley, a Democrat from Kalamazoo, introduced what was described as bipartisan legislation on Wednesday that would create a statewide warning system similar to an Amber Alert. Instead of notifying people about missing children, however, the system would tell Michiganders when there is an active shooter or terrorist in the area.
The bill's introduction comes after a gunman killed six people and injured two more during a mass shooting in Kalamazoo on February 20. The shootings occurred at three different locations in the city, while the gunman, an Uber driver, continued to pick up and drop off passengers in between incidents.
"There was no way to know that just being at the wrong place at the wrong time could have resulted in so much tragedy on that Saturday night, and as the situation was happening, there was no way to send a mass warning to those in the area," Hoadley said in a statement.
"This bill will make sure everyone has a chance to receive the news immediately when it is known, and hopefully get to safety to avoid another tragedy like the lost lives in Kalamazoo."
Some people close to the shootings didn't know anything was happening, with others not finding out until the next day, according to WILX. Hoadley's bill was written when Kalamazoo County Sheriff Rick Fuller suggested the idea after the incident.
"We need a comprehensive way to inform the public of an active threat as well as inform the public of when that threat subsides," Fuller said about the new proposal. "This is a tool law enforcement needs."
Its introduction also comes right after Republican Rep. Brandt Iden proposed a similar system with House Bill 5442. His bill would have the Michigan State Police create a warning system similar to Amber Alert"to rapidly disseminate useful information"to radio and television stations, as well as mobile devices.
"The state police will use the quickest possible means to spread awareness while they work to control the situation and put a stop to violent threat," Iden said in a statement.
"The faster our communities are aware of a dangerous and violent situation, the better citizens can prepare and find safety."
One difference between the two bills is that Hoadley's would create a penalty for any false reports, something meant to stop "cry wolf" situations from happening.