'Get 'em out': Trump demands ejection of protesters from 'intense' rally (VIDEO)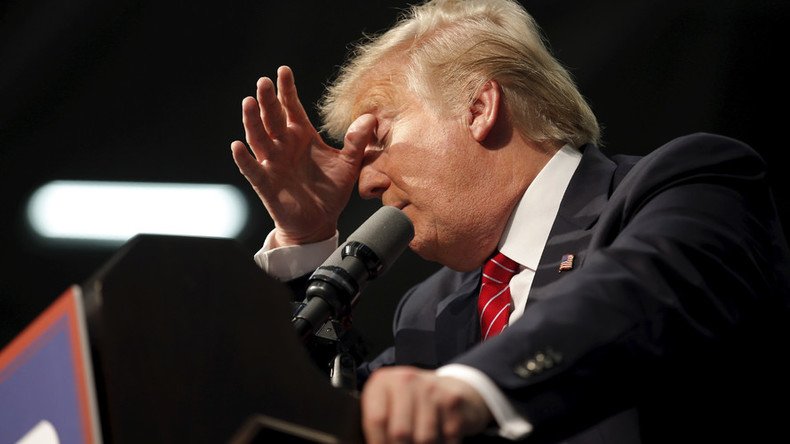 A Donald Trump campaign rally in New Orleans took a menacing turn Friday after the politician's security clashed with pockets of angry protesters among the crowd.
For once the Republican frontrunner struggled to get his words out, as security tried for several minutes to maintain order in a crowd containing people opposing Trump's bid for the White House.
Footage broadcast from the rally in Louisiana shows the billionaire businessman becoming increasingly irate as he is disrupted by protesters shouting out during his speech.
It came hours before Louisiana polling stations opened for the latest round of primaries.
At one stage, Trump calls for bouncers to throw the protesters out of the venue.
"Oh no, not another one. Get out of here. Get out. Get out," he shouts. "Troublemakers. Real troublemakers. This is a wild evening. This is one hell of a way to spend a Friday evening."
Trump's security duly obliged and footage posted online shows people being dragged out of the audience as Trump supporters shout expletives.
NBC News reporter Katy Tur took to Twitter to describe the scenes as "scary", while her colleague Ali Vitali said the rally was the "most intense" she had witnessed.
Trump, however, later played down events on Twitter, simply referring to the rally as having a "big and energetic crowd".
Members of the Black Lives Matter movement were among the protesters present. Meanwhile, one activist dressed in a suit could be seen carrying a poster with 'KKK 4 Trump' written on it.
The tense scenes inside the rally followed a more placid anti-Trump protest outside the LakeFront Airport venue earlier in the day. Scores of protesters carrying signs such as 'Racism and Hate are not American Values' were accompanied by marching band music.
Referencing political commentator John Oliver's social media quest to have Trump take his ancestral name, one woman carried a homemade placard emblazoned with 'Dump Drumpf'.
You can share this story on social media: