US Navy deploys small armada headed by USS Stennis to South China Sea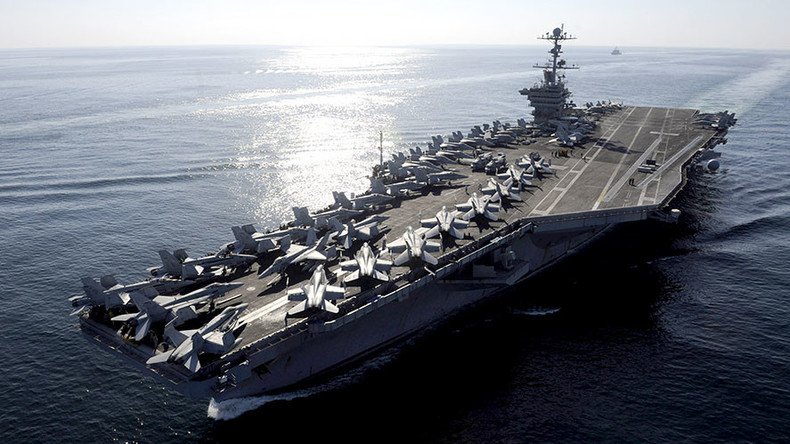 According to US military officials, aircraft carrier John C. Stennis, two destroyers, two cruisers and a Japan-based US Seventh Fleet flagship have sailed into the contested waters of the South China Sea, to counter the presence of China.
According to US Navy news releases during the past 24 hours, the USS Stennis cited 'South China Sea' on its dateline, with the crew busy conducting damage control drills and advancement exams.
The small armada traversed the area in late February, the same time when Japan's Murasame-class destroyer JDS Samidare visited it. On February 4, the group crossed the International Date Line into the US Seventh Fleet's area of operations, a few weeks after its deployment from Washington in mid-January. The Washington Post reports that thousands of US sailors were also deployed to the area.
Meanwhile, American navy officials have been downplaying the significance of their military presence in the disputed waters.
"Our ships and aircraft operate routinely throughout the Western Pacific – including the South China Sea – and have for decades," US Navy Lt. Cmdr. Clay Doss, a spokesman for US Pacific Fleet said, according to The Navy Times. "In 2015 alone, Pacific Fleet ships sailed about 700 combined days in the South China Sea."
The disagreement between the US and China emerged the previous year when the latter was accused of beefing up its military presence in the South China Sea, which is an area disputed by at least six counties.
"In my opinion China is clearly militarizing the South China Sea," US Pacific Command head, Admiral Harry Harris told lawmakers after reports in late February that Beijing sent an advanced surface-to-air missile battery to the Paracel Islands.
Chinese officials were quick to dismiss such claims.
"The accusation can lead to a miscalculation of the situation," said Fu Ying, a spokeswoman for China's National People's Congress, as cited by The South China Morning Post in a Friday report. "If you take a look at the matter closely, it's the US sending the most advanced aircraft and military vessels to South China Sea."
The carrier strike group deployment is the latest power display in the region, with China, the Philippines, Vietnam, Malaysia, Taiwan and Brunei laying claim to parts or all of the contested Spratly island chains.
The Islands, consisting of reefs, rocks and other natural formations, have been in the spotlight of China's land reclamation projects. The country has begun constructing islands on top of some reefs over the past two years, claiming territorial seas around them to secure fishing and resource rights.
The disputes in the marine area resulted in violence in the past. In 1974, a conflict between South Vietnam and China led to a shootout in the Paracel Islands, located between Vietnam and China's Hainan Island. That dispute was never fully resolved.
You can share this story on social media: