Beijing deploys 'necessary defenses' on disputed South China Sea Islands, says in line with intl law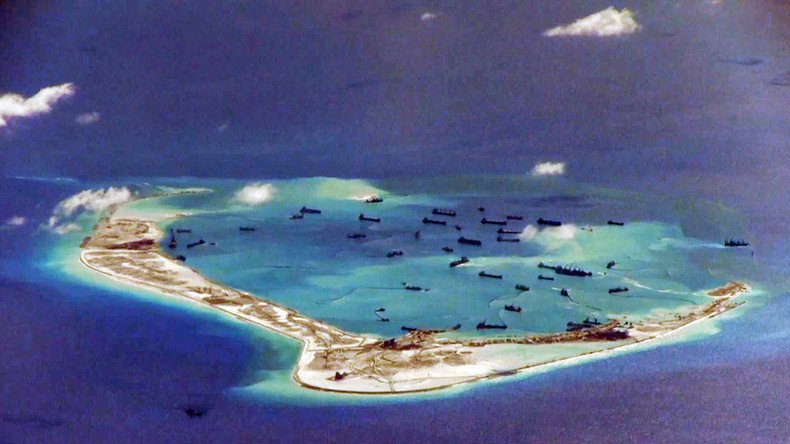 China has reportedly put surface-to-air missile systems on one of the disputed South China Sea Islands, as tensions rise in the region over sovereignty claims. Beijing says its defense facilities won't impede navigation or over-flight freedom in the area.
Satellite images taken by ImageSat International, and aired on Fox news, show two HQ-9 air defense system batteries of eight missile launchers, which have a range of about 200km, and a radar system on Woody Island. Dated February 14, one image showed Chinese hardware, whereas an image dated February 3 didn't show any installations.
On Wednesday, at a news conference with his Australian counterpart, China's Foreign Minister Wang Yi said: "The limited and necessary self-defense facilities China has built on islands and reefs by Chinese personnel is consistent with the self-defense and self-preservation China is entitled to under international law."
Commander of the US Pacific Command, Admiral Harry Harris, told a briefing in Tokyo on Wednesday that deployment of advanced Chinese air defenses in the region "would be a clear indication of militarization."
The US Department of Defense refused to comment on its intelligence when asked by the Guardian, but said they are watching "these matters very closely."
Spokesman for the Chinese Foreign Ministry, Hong Lei said at a news conference on Tuesday: "Deploying necessary national defense facilities on its own territory is China's exercise of self-preservation and defense, a right granted by international law to sovereign states." The Chinese representative stressed the nation's defense facilities "do not impede freedom of navigation and over flight in the South China Sea."
Wang also suggested the reports were an attempt by "certain Western media to create news stories."
"I also hope the media everywhere will turn your attention more to the lighthouse we have built on some of the islands, which is now in operation and has been very useful in assuring the safety of passing ships."
Ahead of the meeting with Wang Yi, Australia's Foreign Minister Julie Bishop said she would challenge Beijing's land reclamation activities in the South China Sea.
China, Taiwan, Vietnam, Philippines, Malaysia and Brunei have competing claims to the islands, while the US objects to the "militarizing" of the disputed area.
The deployment of surface-to-air missile system has also been noted by Taiwan's Major General David, who told Reuters Taipei "will closely watch subsequent developments." The general urged all the parties in the dispute to "refrain from taking any unilateral measures that would increase tensions."
"We discussed the need for tangible steps in the South China Sea to lower tensions, including a halt to further reclamation, new construction and militarization of disputed areas," American President Barack Obama said on Tuesday at the Association of Southeast Asian Nations summit in California.
In a show of strength last month, American guided-missile destroyer, the USS Curtis Wilbur, sailed near Triton Island in the Paracel Islands, as part of a "freedom of navigation" drill in the disputed islands chain.
China responded by accusing Washington of being "the biggest cause of militarization in the South China Sea" and called the US Navy's actions "highly dangerous and irresponsible."
While Obama warned on Tuesday the "US will continue to fly, sail and operate wherever international law allows," the Chinese Foreign Ministry defended its right to protect its territory.
When asked about deployment of air defense missile complexes to the Paracel Islands, China's Defense Ministry said on Wednesday that military facilities on "relevant islands and reefs" had been in place for years, Reuters reports.
"China's air and naval defensive deployments on the relevant islands and reefs have existed for many years," the statement said, stressing that the Paracel Islands are China's territory, so Beijing is acting within its rights to deploy defense facilities there.
You can share this story on social media: