US economy beats expectations, adds 242k jobs in February
Published time: 4 Mar, 2016 17:28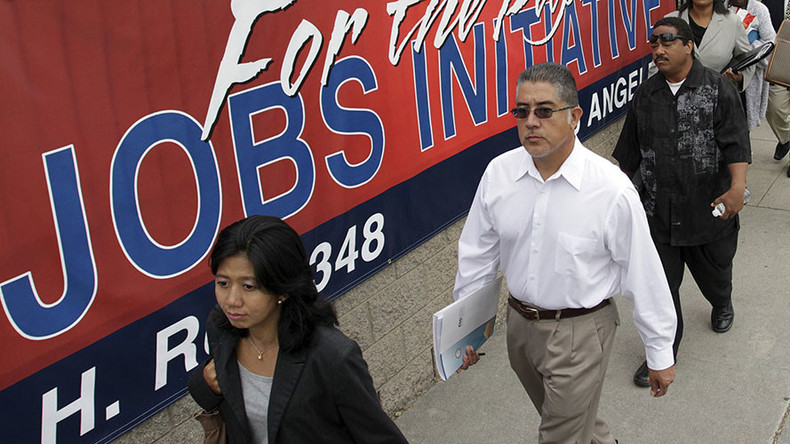 The United States saw 242,000 new private-sector jobs in the month of February, far exceeding its January gains, according to data from the Bureau of Labor Statistics. The unemployment rate held steady at 4.9 percent, its lowest level since 2008.
The data released Friday showed numbers that were far stronger than anticipated. The American economy was only expected to add 195,000 jobs, according to the consensus view of economists polled by Bloomberg. The private sector added 172,000 jobs in January.
The White House tweeted about the news, saying that the growth in employment is the fastest it's been since the 1990s.
Four years ago, when President Barack Obama was fighting to stay in the Oval Office, the jobless rate sat at 8.3 percent, with the economy still in the early stages of recovery from the Great Recession.
The economy of this election cycle, on the other hand, is now facing an unemployment rate of only 4.9 percent after 72 months of continual job gains.
However, low-wage jobs accounted for much of these gains, resulting in the average hourly earnings among US workers declining by 3 cents to $25.35 during February, a 0.1 percent loss. This is a step back from January, which saw an average wage increase by 12 cents.
Areas of the economy that have had heavy demand include the hospitality and service industries, compensating for weak numbers in the manufacturing, transportation and energy sectors.
Jobless rates are higher for minorities. Black and Hispanic Americans had unemployment rates of 8.8 percent and 5.4 percent respectively, with whites at 4.3 percent.
The job growth figures come at a turbulent time for financial markets, with the S&P 500 dropping about 2.5 percent since the beginning of 2016. In response to this uncertainty, the Federal Reserve announced earlier in the year that it would delay its plans to raise interest rates.