Alabama cop arrested for murder in death of unarmed black man shot 5 times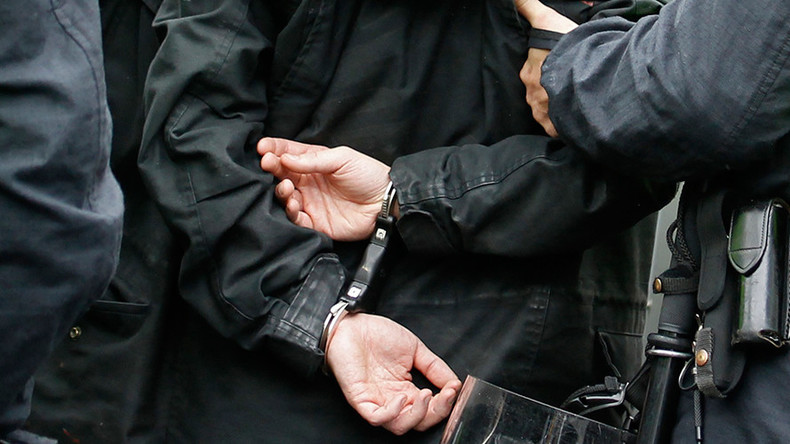 A police officer from Montgomery, Alabama has been arrested on murder charges over the fatal shooting of an unarmed black man. His lawyer claimed the arrest was politically motivated, while the family says the man was shot because of his skin color.
Officer Aaron Smith, 23, was arrested on Wednesday on suspicion of murder in the death of Gregory Gunn, a 58-year-old African-American man who was walking home around 3am a week ago when he was stopped. According to the Associated Press, police said Smith, who is white, believed Gunn looked "suspicious," and left his police vehicle to approach Gunn on foot.
It's unclear exactly what happened during the confrontation between the two, but Gunn family attorney Tyrone Means told AP that Gunn was shot five times – three times in the chest and two times in the buttocks.
Montgomery County District Attorney Daryl Bailey said Wednesday that Smith's arrest did not constitute an indictment and that the officer was held on a bail of $150,000, AL.com reported.
Bailey determined, along with the State Bureau of Investigation, that there was "probable cause that a crime had been committed." He added that he plans to present the case to a grand jury once the investigation is finished.
The news comes as police behavior, particularly in communities of color, continues to be scrutinized across the US. To the Gunn family and police brutality protesters, Smith's arrest was welcomed.
"All I want is justice," said Gunn's mother, Nellie Ruth Gunn, according to AP.
However, Bailey himself has declined to reveal just what evidence has been uncovered so far, including whether initial reports were correct to say Gunn was armed with a pole or painter's stick, leaving the Gunn family and Smith's attorney to present conflicting perspectives regarding what happened.
Family attorney Means claimed that Gunn may have been shot while trying to protect himself as he crouched on the ground.
"They didn't even look at the man. [They looked at] the color of his skin. ... He was judged; he was tried and he was hung," Gregory Gunn's brother Franklin said when he interrupted a press conference by Mayor Todd Strange on Monday, CNN reported.
Smith's attorney, Mickey McDermott, strongly disagreed with the claims, arguing that the officer's behavior was justified. He claimed that the arrest was "a political calculation to placate activists to prevent another Ferguson."
"We've had protests all over the city – there are people outside of my building protesting right now," McDermott said, as quoted by the Montgomery Advertiser. "They have sold out a good officer – a second generation officer whose parents were both in MPD. He was doing his job when a tragedy occurred, but Officer Smith followed protocol and followed his training."
According to the lawyer, Smith was patrolling a high-crime area alone when the incident occurred. When Smith walked toward Gunn and searched him, Gunn ran away. At this point, McDermott said that a physical confrontation began, with Smith using his Taser six times. Afterwards, Gunn allegedly "picked up a weapon and turned towards" Smith.
"[Smith] had no choice at that point but to use his firearm to protect himself. It is a terrible tragedy what occurred. But Mr. Gunn bears the responsibility for that tragedy, not this young officer," McDermott told the newspaper.
Despite the attorney's claims, District Attorney Bailey told the Advertiser he did not agree with how McDermott described the incident.
In the wake of the shooting, protesters interrupted a City Council meeting and even requested that white officers not be placed in black neighborhoods, AL.com reported.
Meanwhile Mayor Strange has called on the community to remain peaceful and allow the investigation to unfold.
"From the outset, we said we would follow the facts and let the truth come out," the mayor said. "We still say that today. We trusted the process and this is where it has brought us. It's unfortunate, but this is a time for grieving for the Gunn family and our sympathies and hearts go out to them."