'We'd skin you alive': Venus Williams ends 15-yr boycott of 'racist' Indian Wells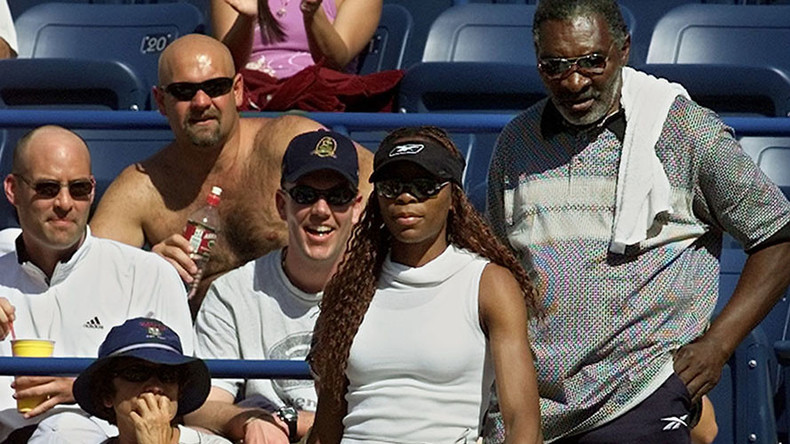 The last time tennis stars Venus and Serena Williams competed in the Indian Wells Masters in the California desert near Palm Springs, they were called "ni**ers" and other disgusting racial slurs.
That experience led to a boycott of the event by the Williams sisters. While Serena decided to return to the tournament last year, Venus will now follow her lead and end her boycott in advance of the tournament starting on March 9.
"One guy said, 'I wish it was '75; we'd skin you alive'," said their father and coach, Richard Williams. "That's when I stopped and walked toward that way. Then I realized that [my] best bet was to handle the situation non-violently. I had trouble holding back tears. I think Indian Wells disgraced America."
While Venus and Serena were no strangers to violence growing up in Compton, the racial abuse they experienced in 2001 at the posh tennis club now owned by billionaire Larry Ellison relentlessly continued until Serena collected her trophy.
Richard Williams, who witnessed the lynching of a friend while in 1940s Louisiana, told CNN he was determined for them to be successful tennis players.
"There was no place in the world that was rougher than Compton," Williams said. "The ghetto will make you rough, it'll make you tough, it'll make you strong."
Citing her younger sister as inspiration for returning to Indian Wells, Venus explained her decision in an essay posted on the Players' Tribune website.
"I remember the hurt I felt. I remember my confusion and disappointment and anger. I remember how the coverage of it at the time didn't seem concerned with me and Serena, as people, at all — but rather only with the story itself... I remember leaving Indian Wells in 2001 feeling like I wasn't welcome there," she wrote.
Venus later added: "I didn't think that playing Indian Wells again was something I'd ever do."
Serena described her experience in a letter last year: "The under­current of racism was painful, confusing and unfair. In a game I loved with all my heart, at one of my most cherished tournaments, I suddenly felt unwelcome, alone and afraid."
"Seeing Serena welcomed with open arms last year at Indian Wells, that I think I fully and truly realized what being the big sister means," said Venus. "For all of the things I did first, and all of the times when I paved the way for Serena, the thing I can be most proud of is this time. When Serena paved the way for me."