Over 68K people call for Bill Clinton's arrest over alleged electioneering on Super Tuesday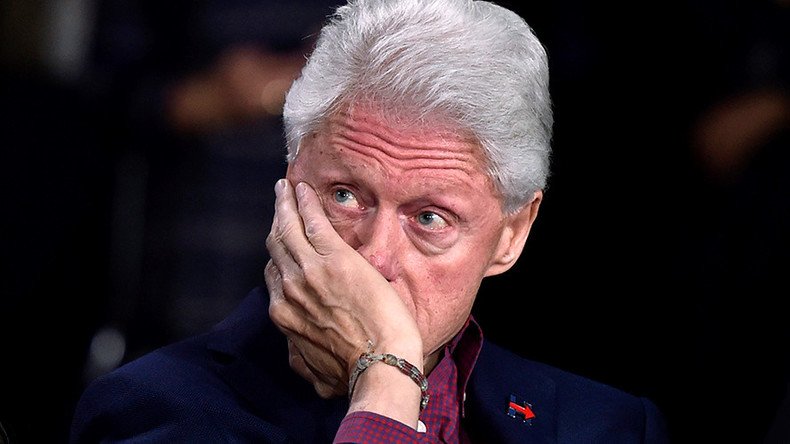 A petition calling for the arrest of former President Bill Clinton for alleged election law violations has gained over 60,000 signatures. He made appearances at three polling precincts in Massachusetts on Super Tuesday. State officials said he acted legally.
"This is a call for the immediate arrest of President Bill Clinton for clear, knowing and egregious violation of the campaign laws to swing an election in a significant way," said the petition to Massachusetts Attorney General Maura Healey.
"It could not be any clearer in the Massachusetts General Laws...[prohibiting] campaigning within 150 feet of a polling station…Clinton was not only electioneering within the boundary…photos and video show him greeting and talking up election workers inside," added the petition.
By Wednesday evening, 68,568 people had signed the petition.
Under Massachusetts election law "certain activities are prohibited within the polling location and within 150 feet of the polling place."
"A person standing within 150 feet of a polling location, including observers in the polling location, may not: hold any campaign sign; hand any person literature intended to influence the voter's action at the polls; wear any campaign buttons or identifying signage; solicit a person's vote for or against a candidate or question on the ballot, or, distribute stickers," the document said, according to CNBC.
The New York Times said a pool report showed Bill Clinton visited to Boston's West Roxbury neighborhood on Super Tuesday morning. He went inside the polling place with the city's Mayor, Martin Walsh, stopped at a bake sale at the entrance, and then shook hands with poll workers.
When one woman asked for a photo, Clinton said, "As long as we're not violating any election laws," the pool report said.
A video clip showing Clinton shaking hands with election clerks at Holy Name polling station, alongside the Mayor had some people on Twitter questioning the former president's appearance indoors.
Clinton made a separate appearance at a library in Newton, another polling station, after greeting supporters outside, which left poll workers were flummoxed.
"We had to remind everybody what the rules are, that there is no campaigning within 150 feet of the voting booths because people are entitled to their privacy," William Galvin, Massachusetts secretary of state told the New York Times. "And it's not just him but his media entourage."
Despite no report of the former president explicitly asking voters to support his wife, the online petition alleges he was "electioneering within the boundary."
"Arrest seems a bit silly, at this point," Brad Friedman, host of The BradCast, a daily radio program on Pacifica Radio and Sputnik told RT. "Though a call to investigate and see, if in fact, he broke any laws and/or his presence led to voters not being able to cast votes would be appropriate here. I saw some claims that he held up voting for two hours at one location. If true, that's a concern. But I am skeptical of that time."
Secretary Galvin said his office called ahead to Clinton's next stop in New Bedford to remind those poll workers of the rules.
"He can go in, but he can't approach voters," Galvin said. "We just took the extra precaution of telling them because this is not a usual occurrence. You don't usually get a president doing this."
Massachusetts native and Bernie Sanders volunteer Angela Grace said Bill Clinton stumped for his wife directly in front of the Buttonwood Park warming house which served as the polling place, according to the American Herald Tribune. When Clinton did arrive the secret service caravan walked him the whole distance down the road to a crowd packed into the parking lot of the park.
"He completely blocked this poll for a good half hour at least," Grace told American Herald Tribune. "Mayor Mitchell was instrumental in putting this whole thing on, and he endorsed Hillary right smack in front of the doorway to the voting poll."
"I am stick with how much corruption there is going on. I don't know what the answer is but we're going up against a lot," Grace added.
You can share this story on social media: