Baltimore school police chief suspended after video shows officer slapping student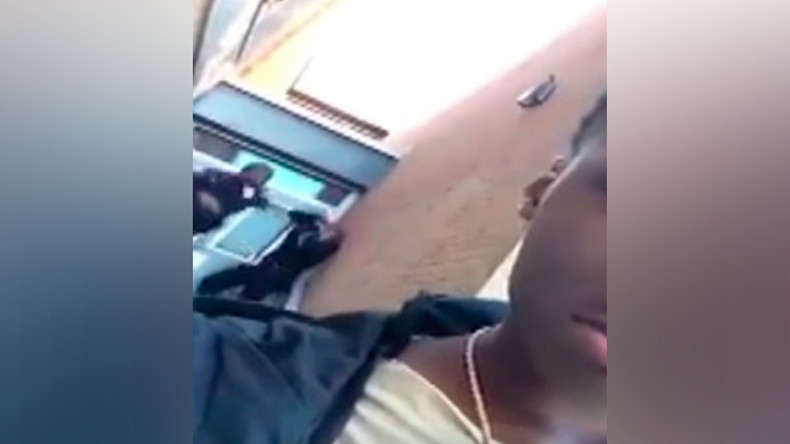 Video footage shows a Baltimore school police officer slapping, kicking and cursing at a high school student, prompting the chief of the police department and two of its officers to be put on administrative leave.
The short clip posted to Facebook on Tuesday was covertly filmed via smartphone by another student at Reach Partnership School, and shows an unidentified officer swearing at a young man while slapping his face three times.
READ MORE: Maryland legislation would ban police 'rough rides'
"Go the f**k home!" the officer yells. A second officer can be scene behind the attacker, making no effort to stop his coworker.
The officer can then be seen kicking the teen in the back, saying: "get the f**k out of here!"
Officials are investigating the case, Schools spokeswoman Edie House Foster said Wednesday. She confirmed that the officer in the video was among those placed on leave, calling his behavior "unacceptable and appalling."
The attorney for the officer said he was responding to reports of an intruder on school grounds and that the young man became aggressive after he was told to leave, according to CNN. Michael Davey claimed the video showed only part of the encounter.
Baltimore Mayor Stephanie Rawlings-Blake also described the incident as "appalling" to the Baltimore Sun, and worried that the officer's actions could harm the relationship between the community and the police.
"Anytime there is a law enforcement officer with that level of authority that seems to be abusing that authority, it impacts all of us across the country," Rawlings-Blake told the newspaper. "It certainly is not helpful as we work to build bridges of trust to see that level of mistreatment."
Reach Partnership is one of seven high schools in the city that has police officers dedicated to the building, according to CBS News.
The school system wasn't even aware of the video until WJZ brought it to their attention, the station said.
"We are waiting for the department to conduct a full and complete investigation," said Sergeant Clyde Boatwright, president of the school police union.
The officer and the young man, who both appear to be black, remain unidentified.