Once in a blue moon: Siblings share Leap Day births, years apart
Published time: 2 Mar, 2016 15:50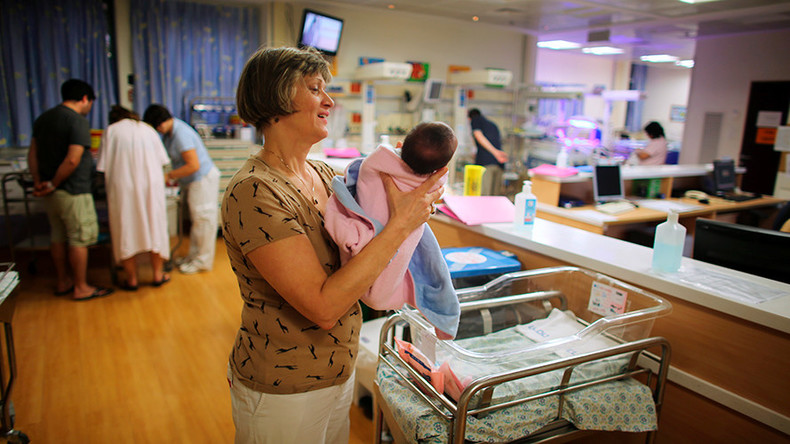 Despite the fact that there is only a one in 1,461 chance of being born on a Leap Day, for some families the odds turned out not to be as slim as they may sound. Here are five cases where siblings share birthdays on February 29, but over different years.
Sisters in Michigan
On Monday, a Michigan couple welcomed their second daughter, Evelyn Joy, on Leap Day, which also marked their older child's "first" birthday.
"It's not something they tried or planned to do, and she wasn't induced. It was all by chance," said nurse midwife Maureen Heinz, who helped with Evelyn's natural birth, calling it "quite the miracle."
What is even odder in this story is that not only both of Melissa and Chad Croff's girls were born on the same day, but also the time difference between their births was less than 30 minutes even though they were four years apart.
"I didn't expect the possibility of them being born on the same day, let alone on Leap Day, until I went into labor yesterday at church," Melissa Croff said in a statement released Monday by Henry Ford Macomb Hospital, where the baby was born.
Nearly 3 Leap Day kids in Minnesota
A Minnesota mom, Meagan Erickson, has now spent three Leap Days in row in labor. Two of her children were born on February 29, while one more was born just 10 hours before 2/29.
On Monday, the family welcomed their second Leap Day child. The Ericksons now have an eight-year-old daughter sharing her second birthday with her newborn baby sister on February 29 and their middle child born just 10 hours before Leap Day.
"It's definitely a topic of conversation," Erickson told KMSP.
Colorado boy gets baby brother to share Leap Day birthday
Jennifer Ginn of Lakewood, Colorado, has two boys, both of whom are Leap Day children. On February 29, 12-year old Giovanni welcomed his little brother, born on his third birthday.
"They're going to be lucky, and they're going to bring us luck," Anthony Ginn, the boys' father said.
Like father, like children
A North Texas family has an even crazier coincidence to share – not only are their two children celebrating birthdays on Leap Day, but so is the father.
On Monday, Casey Hahn's wife gave a birth to a baby girl, named Wells, KDFW reported. Exactly four years earlier, Wells' brother was born. And four decades before that, their father was born.
"I turned 40 and 10 today," Hahn said about February 29.
'World record' Leap Day family
A Utah family had a triple birthday celebration for three of their children, ages four, eight and 12, all born on February 29.
"It's just awesome," their mother Louise Estes told KUTV.
In fact, the family is reportedly holding the world record of number of children in one family with Leap Day birthdays.