Super Tuesday: Turning point of road to White House
Published time: 1 Mar, 2016 11:21
Edited time: 2 Mar, 2016 14:22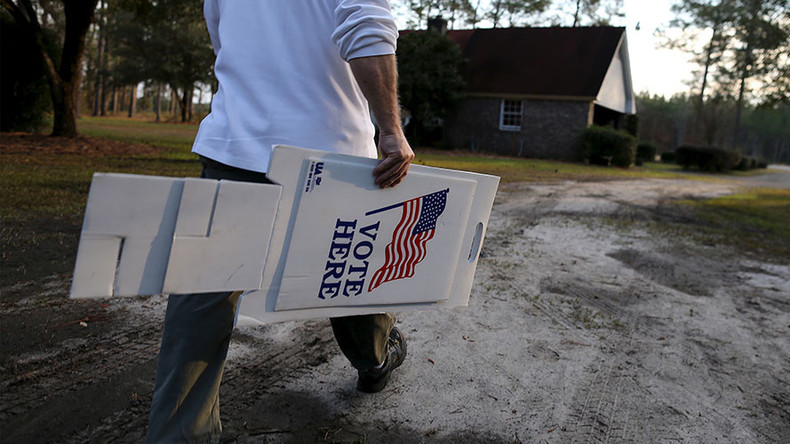 The biggest day of the primary season, Super Tuesday, is when the greatest number of party delegates will claim their candidate. Republican candidates could secure half their delegates, and Democrats a third.
Super Tuesday

Watch RT America's coverage of Super Tuesday, beginning at 4:00pm ET.Read more: RT.com/AmericaWatch More: youtube.com/rt_america

Posted by RT America on Friday, 26 February 2016
02 March 2016

08:59 GMT

Ted Cruz wins the Republican caucus in Alaska, AP reported.

07:12 GMT

#AKVotes 8,626 reporting, incl Eagle Riv
Carson 892 - 10.3%
Cruz 3,094 - 35.9%
Kasich 411 - 4.8%
Rubio 1,430 - 16.6%
Trump 2,799 - 32.4%

— Alaska GOP (@akgop) March 2, 2016

04:29 GMT

Hillary Clinton takes Massachusetts, Bernie Sanders takes Minnesota.

04:07 GMT

LU: With 53% of polls reporting, Marco Rubio could take Minnesota. Bernie Sanders is leading in Minnesota, as well.

04:01 GMT

Bernie Sanders is projected to win in Colorado.

03:28 GMT

"If tomorrow morning, a candidate is sitting there and he's won zero states and doesn't have a credible shot at getting the delegates, then I do think it's worth a candidate thinking about coming together and uniting behind," Cruz said in a Tuesday interview on "The Mike Gallagher Show." Adding, "I do think what today will do is help narrow the field. We need to get to a one-on-one battle with Donald Trump."

03:24 GMT

Donald Trump takes Arkansas.