Fatal police shooting of African American male in North Carolina sparks protest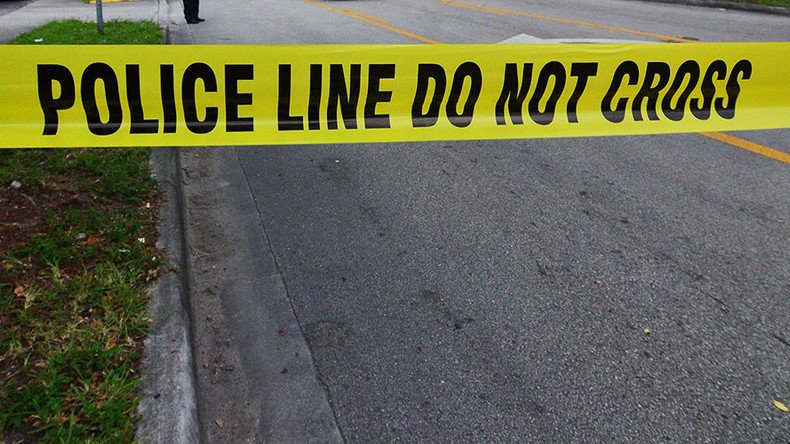 Over 100 people rallied in Raleigh, North Carolina after police fatally shot an African American man during a foot chase. Police officials said a gun was found near the man who was wanted on felony drug charges. Witnesses said the police shot him in the back.
Police did not identify the man but a witness told ABC11 that a white officer shot her son, Akiel Denkins, 24, who was wanted on a warrant.
"He was running away," said Rolanda Byrd. "They couldn't catch him so they shot at him seven times."
"Everybody seen it," said Byrd. "They ain't going down with this one. They ain't gonna get away with this one, there's at least 40 eyewitnesses out here."
Byrd said several people told her that her 24-year-old son was unarmed and was shot by a white officer.
Raleigh Police Chief Cassandra Deck Brown confirmed that during the course of a pursuit, "the suspect was shot and killed by the officer."
"[It] is known that a firearm was located in close proximity to the deceased suspect. That weapon, along with other elements available at the scene will be processed," said Brown in a statement released to reporters. "Multiple investigations…are still in their early stages."
"This is a sad day, and our thoughts and prayers go out to all involved," Brown added. "I ask everyone to please be patient while the follow-up investigations are conducted to determine the facts about what happened today."
Louis Rodriguez was up a ladder putting up vinyl siding on a home when he heard the commotion.
"I heard somebody say, 'Stop, stop,' then I heard, like, six shots," Rodriguez told the Raleigh News & Observer. "Then I heard the screams. Man, it was loud."

As word of the shooting spread, a group of demonstrators arrived at the scene and started chanting, "black lives matter."
Residents were discussing two locations for a vigil at 7:00pm.
The vigil on Bragg Street outside the bodega where Denkins was before he ran from police where several hundred gathered.
Hundreds of residents then marched through the streets to a church on Holmes Street.
In a statement, the Wake County District Attorney, Lorrin Freeman, asked for "people's patience as we work to ensure that this investigation is thorough and complete." Freeman said they will release information as it becomes verified and available.
The American Civil Liberties Union (ACLU) of North Carolina said in a statement, "Along with many community members in Raleigh, we are alarmed by these reports, trying to learn more details about what happened, and express our deepest condolences to Akiel's family. What we do know is that far too many people of color are victims of wrongful targeting and excessive use of force by law enforcement officers across the country, and North Carolina is not immune to that reality."
You can share this story on social media: