'Nipple bill' needed to protect New Hampshire values – GOP lawmaker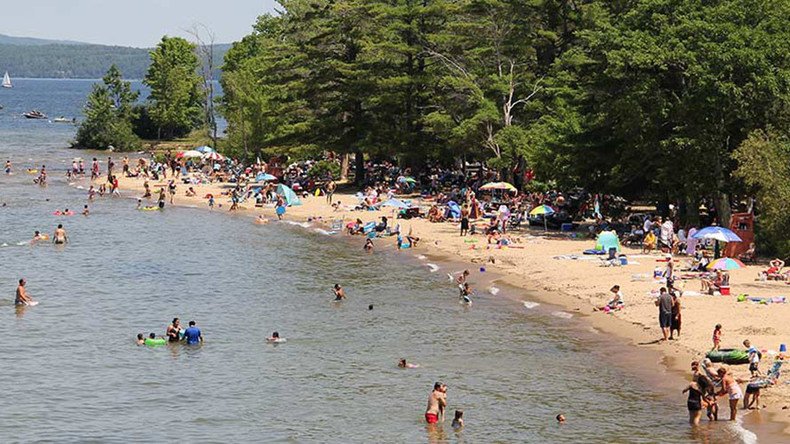 Failing to pass a law that would penalize women for exposed nipples in public would lead to a nudity problem across New Hampshire and hurt the state's tourism industry, a Republican lawmaker warned.
"This is about a movement to change the values of New Hampshire society," Representative Brian Gallagher (R-Belknap), author of the proposed House Bill 1525, said at a public hearing on Monday.
Dubbed the "nipple bill," it seeks to amend an existing law and make it a misdemeanor for women to show off their breasts or areolas in public places ‒ primarily beaches ‒ with "reckless disregard" for "whether a reasonable person would be offended or alarmed by such act."
"I filed the bill on behalf of moms and dads, grandparents, with young children, that felt as though this kind of behavior in public places that all people are entitled to share is not the direction that the live-free-or-die state wants to embrace," Gallagher said earlier, according to the Concord Monitor.
"It's a shame that some folks are more concerned with exposing their breasts in public places than they are concerned about how families and children may be impacted by being forced to experience this evolving societal behavior," Gallagher said.
Under current law, a person is guilty of a misdemeanor if he or she fornicates, exposes his or her genitals or "performs any other act of gross lewdness under circumstances which he or she should know will likely cause affront or alarm."
Co-sponsors of Gallagher's bill argue that New Hampshire would risk losing tourism revenue if women show off their uncovered breasts in public.
"I just wonder if this were to accelerate as a movement, whether or not that could have unintended consequences on our tourism industry," Gallagher said, as cited by New Hampshire Union Leader.
Backers of the legislation warn that if women were not stopped from walking topless at beaches, it would eventually lead to them walking shirtless at places such as libraries or Little League baseball games, AP reported.
"What folks choose to do in private spaces is their own business," Gallagher said. "The public spaces are spaces that all of us are entitled to enjoy."
In a separate case involving the issue and the Free-the-Nipple movement, Judge James Carroll ruled in early February that state law does not prohibit toplessness, dismissing charges against two women accused of violating the town of Gilford's rule that forbids nudity on a municipal beach. However, Carroll disagreed with an argument that topless sunbathing is a constitutional right.
Both Gallagher and a co-sponsor of the bill, Rep. Peter Spanos, admitted that the bill is in part a response to a "Free the Nipple" movement incident in Gilford, which helped the two women in their legal battle.
Opponents argue that such a ban would violate the Constitution because it would be creating different standards for men and women.
"Men fought for this right in the 1930s and we're fighting for this right now," Heidi Lilley of Gilford, one of the plaintiffs, against whom charges were dropped, told the Union Leader. "Well, lips are sexual. Do we need to cover up our lips?" she asked.
Kari Stephens, a Hampton resident who enjoys topless sunbathing, also opposes the bill.
"We are not lunatics, we are not radical, we're not looking to go to football games topless or libraries or school meetings," she told AP. "If there is a man in a public space who is obviously comfortable enough, then why should I not have that same right?"
The "nipple bill" has caused controversy long before the public hearing. In December, it became the apple of discord between two male lawmakers ‒ Rep. Josh Moore (R-Merrimack) and Rep. Alfred Baldasaro (R-Londonderry) ‒ and Rep. Amanda Bouldin (D-Manchester), after Bouldin criticized the bill on Facebook.


You can share this story on social media: