'Worst mistake': American student detained in N. Korea gives teary apology, pleads for release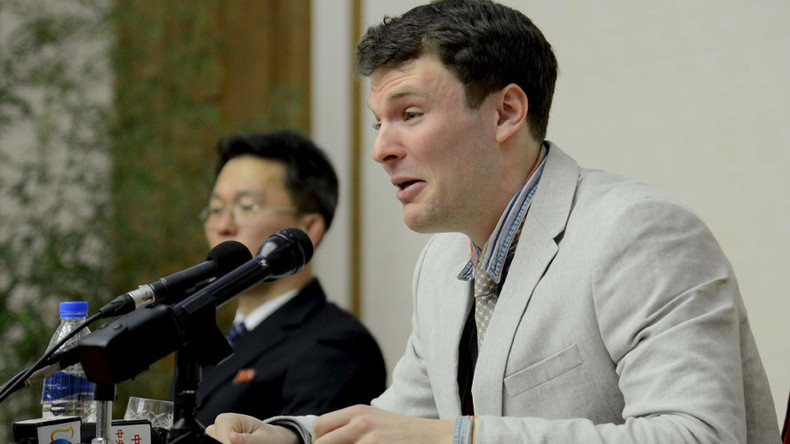 A US student arrested in North Korea for a "hostile act" has tearfully apologized for stealing a political banner "as a trophy," saying that a church supported by the American government made him do it.
Otto Warmbier, a 21-year-old student of at the University of Virginia, appeared in a government-arranged news conference in Pyongyang, begging for forgiveness for what he said was "the worst mistake in his life."
"I committed my crime of taking out the important political slogan from the staff-only area of the Yanggakdo International Hotel," he said, begging for "the Korean people and government" for forgiveness.
In his comments, Warmbier has said that he had planned his act in detail before arriving in Pyongyang on a tourist visa on December 29.
"On January 1, 2016, I committed my crime of taking down an important political slogan from a staff-only area Yanggakdo International Hotel aimed at harming the work ethic and the motivation of the Korean people," Warmbier said, adding that he was arrested early in the morning on January 2 at the airport.
Warmbier said that he wanted to take the banner as his trophy for a church deaconess, who offered to buy him a used car worth $10,000 if he was successful, and was also motivated by a money award from a UVa secret society that he wanted to join, according to the North's state-run Korean Central News Agency (KCNA).
"My reward for my crime was so much smaller than the rewards that the Z Society and the Friendship United Methodist Church get from the United States administration," he said during the news conference, which was aired by CNN and AP.
Warmbier also said that the deaconess told him that, in case of a failure and detention, his mother would be paid $200,000 by way of charitable donations.
The detained student said that while the church sought to "harm the DPRK by all dirty means and ways," the US government supported its actions, KCNA reported.
"I wish that the United States administration never manipulate people like myself in the future to commit crimes against foreign countries," said Warmbier, as cited by CNN.
Calling himself a "severe criminal," he praised North Korea's "humane treatment," saying that he had been "very impressed" by its "very fair and square legal procedures."
"I have no idea what sort of penalty I may face," he said, but added that he "is praying to the heavens so that I maybe return home to my family."
North Korea maintains that Warmbier came to the capital under the "guise of a tourist" intending to bring down the foundations of the country at the "tacit connivance of the US government and under its manipulation."
It is unclear if Warmbier was forced to speak and apologize during the press conference, which comes just days after the US proposed an "unprecedented" sanctions resolution against Pyongyang.