Toeing the poverty line: Alabama blocks cities from increasing minimum wage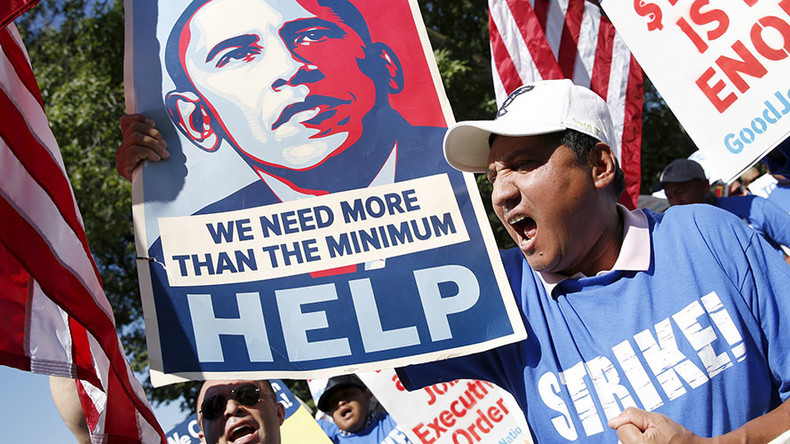 Alabama, the second poorest state in the US, has effectively banned local governments from increasing the minimum wage. The governor and legislature approved legislation that retroactively prevents Birmingham from setting a minimum wage of $10.10 an hour.
On Thursday, Alabama Governor Robert Bentley signed a bill that blocked Alabama cities from setting their own minimum wage or require employers to provide leave or health benefits.
The bill, AL HB174, not only prevents local governments from setting a higher minimum wage than federally required, but also bars them from mandating benefits and leave, solidifying Alabama's reputation as a right-to-work state. Right-to-work laws prohibit union security agreements and abolish requirements forcing workers in certain occupations to join unions. As a result, jobs that are frequently unionized are no longer protected.
With no state minimum wage, Alabama uses the federal minimum wage of $7.25 an hour. An adult earning the federal minimum wage working 40 hours a week, 52 weeks a year, would earn $15,080 before taxes.
However, that number only applies to those working full time jobs. Alabama has the fourth highest unemployment rate. Eleven percent of its potential employees are either seeking employment, or would like and are available for full time work, but can only find part-time jobs, according to the Bureau of Labor Statistics.
Birmingham's race to increase the city's minimum wage began in August of 2015, when officials voted to raise it to $8.50 by July 1, 2016, and then to $10.10 by July of 2017. The state began attempts to repeal the bill in February, however, forcing the Birmingham city council to speed up the process. On Tuesday, the council voted to increase the minimum to $10.10, effective immediately. However, the law was to go into effect on March 1 and state legislators acted faster.
State Senator Jabo Wagonner (R-Vestavia) opposed Birmingham's wage increase, claiming that a wage increase would hurt the economy more than help it. "We want businesses to expand and create more jobs – not cut entry-level jobs because a patchwork of local minimum wages causes operating costs to rise," Wagonner told the Guardian.
Birmingham Council President Johnathan Austin told Al.com that, "It certainly is unfortunate and, if it stands up, it is a loss for those who deserve to earn a livable wage in the city of Birmingham and, for that matter, the state of Alabama," adding, "But the state obviously disagrees."
The average per capita income in Birmingham was about $19,650 between 2009 and 2013, the Guardian reports. Meanwhile, overall average per capita income in the US was $28,155 for that same period, according to the US Census.
Alabama's struggle with poverty is very real. The US Census reports that 18 percent of Alabamians live below the poverty line. Johnathan Austin told the Guard, "People cannot pull themselves up by their bootstraps if they can't afford boots."