They DO exist! Unicorn leads CHiPs on 3+ hour chase
Published time: 27 Feb, 2016 00:27
Edited time: 27 Feb, 2016 02:41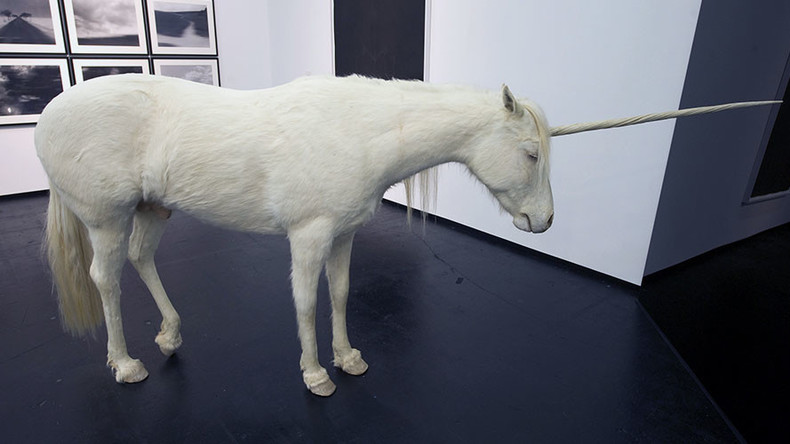 It was like a crossover between 'Once Upon a Time' and 'Cops' after a unicorn escaped ‒ twice ‒ from a fairy-tale photo shoot. A horned pony led California Highway Patrol officers on a nearly four-hour chase outside of Fresno.
Juliet, a regular old Shetland pony, was dressed up as the mythical forest creature during a children's photo shoot in Madera Ranchos, when she got fed up and busted loose Thursday afternoon.
The 500 or 600-lbs. grey darted away from her child handler around 2:30 pm, but was quickly recaptured.
Juliet wasn't ready to finish her romp around town, however, escaping from another kid three hours later. This time, she wasn't so easy to catch, running out "onto the roadways," Madera CHP spokesman Officer Joshua McConnell told KTVU.
Police were alerted by drivers calling about a "unicorn-like" creature galloping down the road.
"Initially [the dispatcher] thought it might be somebody out there on drugs, seeing things," McConnell told the Los Angeles Times. "It was a little unreal to hear calls of a unicorn running around on the roadway."
Juliet hoofed it through town in her horn and pink bridle.
"She went through 13 orchards and five miles," Sandra Boos, the photographer who owns Juliet, told BuzzFeed. "It was crazy. The sun started going down and it started getting dark."
Because of the pony's white coloring, Boos was worried for the equine's safety, and called the highway patrol.
"She's all white and she's small which made finding her difficult," Boos said. "The highway patrol called in a helicopter and they actually used infrared heat to find her."
Juliet was "finally located in an orchard by the CHP H40 helicopter, using the heat seeking FLIR radar," McConnell told KTVU.
The community came together to help rescue the wayward unicorn.
"We had people stopping traffic," Boos said. "And people came out from a horse rescue."
After her friend Renee helped corral Juliet, a highway patrolman radioed, "Please be advised the unicorn is in custody," Boos said.
She has owned the frisky pony ‒ a gift to her 5-year old daughter Tatum ‒ for about a year.
The unicorn-induced mayhem had its scary moments.
"No injuries were reported but there were several near-misses [by cars]. The pony was just lucky. It was returned to its owner unharmed and was secured. No citations were issued in this case, but had the pony been hit by a car ‒ it would have been a different story. The business or owner providing the pony would have been financially liable for all injuries, property damages and other costs, which could have been significant," McConnell said.
"Children should not be tasked with restraining any animal near roadways, especially the large ones," he added.
While Tatum was happy to hear that Juliet was found safely, it turns out that the "naughty unicorn" was really just the devil in disguise.