Alabama attorney sues SCOTUS justices who legalized gay marriage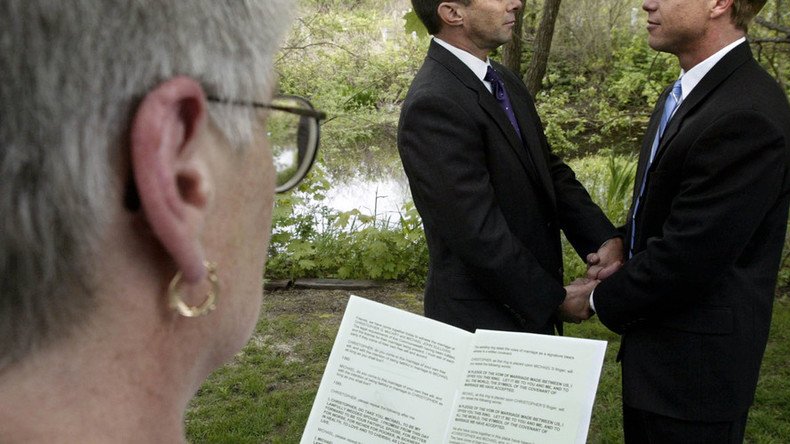 A lawyer from Bessemer, Alabama has filed a $6 million lawsuit against the five US Supreme Court justices who ruled in favor of legalizing same-sex marriage nationwide. He is claiming they violated two constitutional amendments and their oaths of office.
Family law attorney Austin Burdick filed the lawsuit Wednesday in the US District Court for the Northern District of Alabama, naming Justices Anthony M. Kennedy, Stephen Breyer, Ruth Bader Ginsburg, Sonia Sotomayor and Elena Kagan.
Burdick is suing the five associate justices for violations of the 5th and 14th Amendments, and for violating their oaths of office. He is also claiming compensatory damages, punitive damages and mental anguish damages totaling more than $6 million.
"For centuries the Constitution has been the instrument of protection for the rights of citizens against government intrusion," Burdick said in the lawsuit. "Specifically, since the ratification of the 14th Amendment in 1868, [the Supreme Court] interpreted the plain language of the Constitution and that amendment to be a guarantee of freedom from government interference in individual liberty."
In June, the five justices sided with the plaintiff in Obergefell v. Hodges, with the resulting Supreme Court verdict mandating that same-sex marriage was legal nationwide.
"This 'interpretation' is no interpretation at all. It is a tyrannical usurpation of authority to rewrite the Constitution," Burdick said in his lawsuit. By making such a ruling, he argued, the five justices rewrote the 14th Amendment to expand government authority, rather than restrict it.
"The opinion in fact rewrites the 14th Amendment to read: 'Every state must make or enforce any law which shall abridge the privileges and immunities of citizens of the United States; further, each state shall deprive any person of life, liberty, or property, without due process of law under the guise of extending tax benefits or some other license; and any person within its jurisdiction may be deprived of the equal protection of the laws when it is fashionable to do so'," Burdick wrote.
You can share this story on social media: