Oregon protesters plead not guilty in armed standoff case
Published time: 25 Feb, 2016 05:30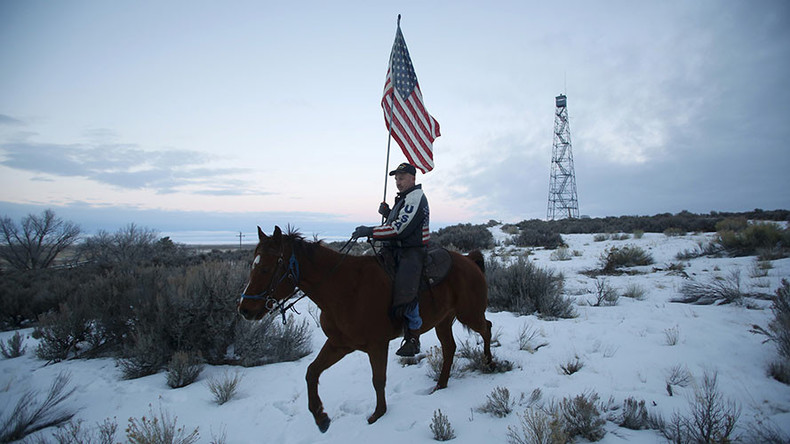 Ammon Bundy and 15 more members the group that staged a 40-day standoff at a federal wildfire refuge in Oregon have pleaded not guilty, while the prosecution is looking for more charges to add. The occupiers face up to six years in prison.
The protesters appeared at a pretrial hearing in US Federal District Court in Portland on Wednesday accused of impeding the work of federal officers and conspiracy.
The group, initially led by Ammon and Ryan Bundy, sons of Nevada rancher Cliven Bundy, was heavily armed and possessed explosives when they began their protest against the federal government's treatment of two local ranchers, Dwight and Steven Hammond, on January 2.
None of those indicted over the armed occupation of the Malheur National Wildlife Refuge in eastern Oregon have recognized their guilt.
READ MORE: FBI finds human feces at Oregon militia camp near Native American cultural site
Ten of the protesters entered not guilty pleas, while another six waived their right to appear at the arraignment, meaning they did not show up.
Addressing Judge Anna Brown, several of the accused expressed doubt that a presumption of innocence would be honored.
"We're being treated as we're guilty,'' Ammon's brother Ryan Bundy said, according to Oregon Live. "So I don't understand the presumption of innocence.''
"It's difficult to understand the presumption of innocence when I've spent the last month in a jail cell and led around in chains wherever I go,'' co-defendant Ryan Payne said.
In the meantime, Assistant US Attorney Ethan Knight said he intends to file a superseding indictment with additional charges as the FBI finishes up its search of the refuge. Investigators found firearms and explosives there last week.
"They've been in custody for weeks. They need information," Brown reportedly said, as she asked the government to speed up the process of turning over more of its evidence.

The prosecution has until March 4 to present discovery material, the judge ruled. However, the trial that is tentatively set for April 29 could be significantly delayed. According to an assistant attorney on the case, Ethan D. Knight, the evidence is complicated as it includes social media posts and videos, along with physical materials. He estimates that they may need up to 90 days to work on it.
"I do not intend to have this matter delayed," Judge Brown said. "Ninety days is beyond belief," stressing that if the government wants to add any new evidence, it needs "do so promptly."
With more charges added, the case would be one "of the most complicated in the history of the district," prosecutors said earlier, according to New York Times.