Dirty Vegas: Nevada GOP caucus doubles down on voting 'chaos'
Published time: 24 Feb, 2016 16:52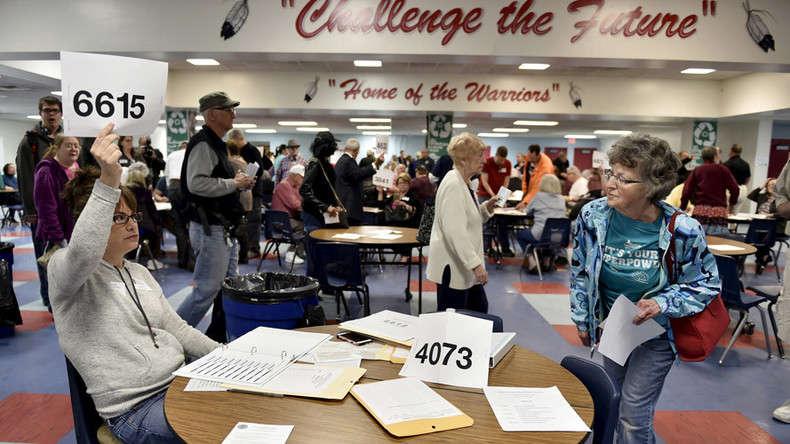 Sin City was classically "chaotic" Tuesday night as some Nevada Republicans allegedly adopted the "vote early and often" approach to choosing their presidential preference.
Badly-organised caucus sites ran out of ballot papers and failed to prevent double voting, according to the Guardian.
Despite their massive influence on the nominating process, caucuses are not directly governed by law but instead are actions of party by-law, run by volunteers and activists adhering to poorly-defined rules on how the events should operate.
At the Double Diamond Elementary in Reno, voters had to write down their choice of candidate on a pink piece of paper after they ran out of official ballot papers.
Double voting was reported at Palo Verde High School in Las Vegas, sparking concerns from the Republican National Committee (RNC), who told the Associated Press that the party planned to compare the number of ballots cast with the sign-in sheet to determine whether double voting occurred.
At the same site, it was reported that counters were wearing Trump T-Shirts on site and operating from closed rooms.
The controversial phenomenon of some counters wearing candidate gear caused confusion at several sites, before the GOP said in a tweet that this was permitted.
All eyes were on billionaire casino owner Sheldon Adelson when he cast his vote in Nevada. In 2012, he donated more than $100 million to GOP candidates vying to become the nominee in the presidential election, something the winner of the current race will hope is repeated.
After quietly purchasing Nevada's largest newspaper, the Las Vegas Review-Journal, last year, the mega-donor reportedly met with Donald Trump.
Adelson gave nothing away on the day though, telling the Wall Street Journal: "I'm voting for myself".
Early results show Trump as victorious in Nevada having garnered 46 percent of votes, ahead of Marco Rubio and Ted Cruz both estimated to have scored in the low 20s.
Similar issues were reported during the Democratic caucus on February 20.
READ MORE: T-shirt switcheroo: Clinton campaign accused of tricks in Nevada
After Saturday's South Carolina Democratic Primary, the next big showdown in the race for the White House is Super Tuesday on March 1 when 12 states hold primaries.