Syrian YPG allegedly uses US high-tech anti-tank missile to blow up ISIS truck (VIDEO)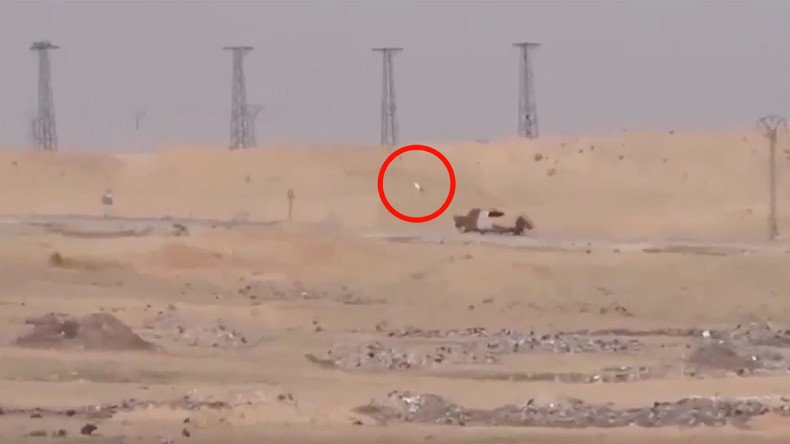 Pictures have emerged on social media which appear to show Syrian Kurds with an advanced US-produced anti-tank missile. A video allegedly shows a rocket blowing up an Islamic State truck. Washington has denied "providing the YPG with weapons."
If the video, believed to have been filmed near the Syrian town of Shaddadi, is authenticated it would show that Syrian Kurdish People's Protection Units (YPG) forces have been given an upgrade in technology.
The footage shows a truck allegedly belonging to Islamic State (IS, formerly ISIS/ISIL) on the receiving end of a direct hit from the missile.
The FGM-148 Javelin is a portable anti-tank missile, which was developed by the United States. It is able to lock on to potential targets using infrared imaging, which makes it a lot more effective than the TOW missile system, which militias fighting against IS had been using, as the TOW is heavier and requires a portable power supply
"Assuming he's not firing from the side of a mountain or on top of a compound, it's definitely a Javelin," Corporal Thomas Gray, a former Marine Javelin gunner who watched the video told the Washington Post.
However John Kirby, a State Department spokesman, said that he was unable to confirm whether the image was authentic and that "nothing has changed about our policy of not providing the YPG with weapons."
The US has denied it is directly sending weapons to the Kurdish YPG forces in Syria, but has admitted it has handed over arms to the Syrian Democratic Forces, which is made up of both Kurds and Arabs.
If the Kurdish YPG fighters have been armed with Javelin anti-tank missiles by Washington, it is a move that will not go down well with Turkey. Ankara has been shelling YPG forces, which Turkey views as a terrorist organization, as well as government troops on Syrian territory since mid-February.
"Turkey has every right to conduct operations in Syria and the places where terror organizations are nested with regards to the struggle against the threats that Turkey faces," President Recep Tayyip Erdogan was cited as saying by the Hurriyet newspaper.
The only problem for Erdogan is that its allies in Washington are not playing ball with Ankara and rather than condemning the YPG, the US is actually supporting the Kurdish fighters as they have proved to be crucial in the fight against IS.
This prompted Ankara to urge Washington to unconditionally support the expansion of its battle against Kurdish militias, warning that those hindering Turkey's right to self-defense will be considered terrorists and acted upon accordingly.
"The only thing we expect from our US ally is to support Turkey with no ifs or buts," Turkish Prime Minister Ahmet Davutoglu told a news conference.
This is even led Turkey to contemplate launching a ground invasion against Syrian Kurdish forces. However, former US diplomat Jim Jatras told RT that this idea is never likely to get off the drawing board because it lacks US support.
Washington has made it clear to Ankara that "you guys are on your own and if you are stupid enough to send your forces into Syria and you get hit by the Russians, don't expect NATO to come to the rescue," Jatras said.
You can share this story on social media: