'Don't go there': Texas teachers told to drop 'sensitive topics' for fear of getting shot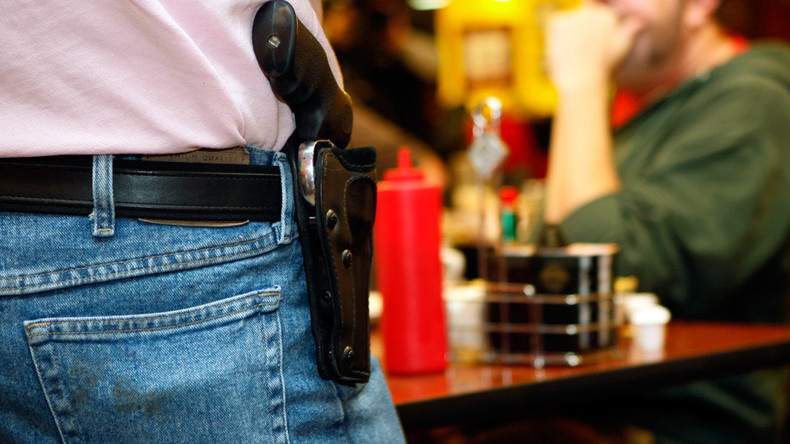 The University of Houston is advising staff members to "be careful discussing sensitive topics" and not to "go there" if they sense anger. The guidelines are in response to legislation passed in Texas that will allow individuals to carry concealed guns on campus.
Members of staff were briefed during a slideshow on how to adjust to the new law, which could potentially put them in dangerous situations. Lecturers are being recommended to "drop certain topics from your curriculum" if the topic is controversial, so as to avoid potential flash points.
Teachers are also being advised not to "go there" if they sense a situation might be getting out of hand and be "careful discussing sensitive topics."
Staff members are also being instructed to "limit student access off hours" to teaching facilities.
The slideshow was organized by the University of Houston faculty senate, who oppose the new legislation. Meanwhile, professors and lecturers say that allowing guns into the classroom will limit academic discussions and freedoms regarding sensitive issues.
"The faculty are increasingly unhappy with the law," said the president of the senate, John Snow, according to the Houston Chronicle. "I've been screamed at. I've been accused of complicity. It's been kind of rough."
The University of Houston has yet to decide where it will allow guns to be carried on campus. A working group, which Snow is part of, is set to present its recommendations by May 1. The University of Texas in the state capital Austin last week revealed that it would ban handguns in dormitories, but would allow them to be carried into classrooms.
The legislation, which will come into effect on August 1, does give private educational institutions the choice of whether to allow handguns on their premises. However, so far none have chosen to allow guns.
"Academics know the intrusion of gun culture into campus inevitably harms academic culture," Snow said.
The legislation, known as House Bill 901, was approved in June and allows the open carrying of handguns in public and on university campuses, while it also allows those who hold a concealed-carry license to carry guns in public in a hip or shoulder holster.
Some Second Amendment activists thought the open carry bill did not go far enough, since it did not abolish the licensing requirement. Police chiefs mobilized to successfully defeat an amendment that would have prevented officers from demanding to see people's licenses. The so-called "cop stop" amendment was championed by a coalition of Democrats who wanted to prevent racial profiling and Republicans concerned about unreasonable searches.
In response to the new state law being passed, hundreds of students at the University of Texas in Austin openly carried items which are still not allowed in classes – dildos.
The "Open (DILDO) Carry" protest was the brainchild of 24-year-old Jessica Jin, who recently graduated from the University of Texas.
"'You're carrying a gun to class? Yeah well I'm carrying a HUGE DILDO,'" Jin says in the Facebook event's description. "Just about as effective at protecting us from sociopathic shooters, but much safer for recreational play."
You can share this story on social media: