Zuckerberg backs Apple in FBI iPhone privacy battle
Published time: 23 Feb, 2016 03:56
Edited time: 25 Jan, 2018 10:28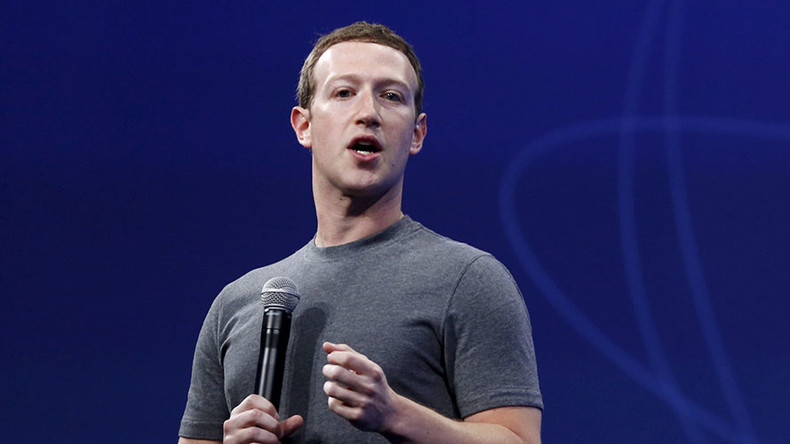 Facebook CEO Mark Zuckerberg is backing Apple in its fight against the United States government, which is trying to gain access to the iPhone maker's encryption technology.
"I don't think building back doors is the way to go, so we're pretty sympathetic to Tim [Cook, CEO] and Apple," Zuckerberg told an audience at the World Mobile Congress in Barcelona, Spain on Monday, as reported by The New York Times.
The FBI has gone to court to demand access to Apple's encryption software to help it break the security on an iPhone once owned by Syed Rizwan Farook, one of the shooters in the San Bernardino, California massacre last December, which left 14 dead and 22 injured.
At the Justice Department's request, a federal magistrate judge recently ordered Apple to bypass security functions on the iPhone 5C, but the company refused to comply with the order, arguing it couldn't be forced to create a so-called back door to its encryption technology.
Last Tuesday, Apple CEO Tim Cook wrote in a letter, "We feel we must speak up in the face of what we see as an overreach by the US government."
Zuckerberg told WIRED on Monday, "We're sympathetic with Apple on this one. We believe in encryption."
Apple urged the Justice Department to drop its request on Monday, suggesting that it should instead "form a commission or other panel of experts on intelligence, technology, and civil liberties to discuss the implications for law enforcement, national security, privacy, and personal freedoms," according to the Washington Post.
The company also posted a message on its customer page on Monday explaining why it believes the government's request has "dangerous implications."
"[The] government would have us write an entirely new operating system for their use…This would make it easier to unlock an iPhone by 'brute force,' trying thousands or millions of combinations with the speed of a modern computer…[it} would intentionally weaken our products with a government-ordered backdoor," said the post, adding that the order "would set a legal precedent that would expand the powers of the government and we simple don't know where that would lead us."
Other tech leaders have also stepped forward to support Apple. Last Wednesday, Google GEO Sundar Pichai showed his support for his competitor in a series of tweets.
"We build secure products to keep your information safe and we give law enforcement access to data based on valid legal orders," Pichai tweeted. "But that's wholly different than requiring companies to enable hacking of customer devices & data. Could be a troubling precedent."
Microsoft has also joined the fight as part of the Reform Government Surveillance coalition, a group of IT heavyweights – including Facebook, Yahoo, Dropbox, and LinkedIn – calling for changes in "the practices and laws regulating government surveillance of individuals and access to their information."
However, according to a Pew Research Center survey released on Monday, the majority of the American public appears to be siding with the Justice Department, with a little more than half (51 percent) saying that Apple should help the FBI unlock the iPhone, as opposed to 38 percent who say it should not. The survey queried 1,002 adults by phone.
On Tuesday, Fight For the Future, a privacy advocate group, is organizing rallies against the court order outside Apple stores across more than 30 countries around the world, from Hong Kong, to London and New York.
"This is the most important moment in the battle over the future of technology, democracy, and free speech since the Edward Snowden revelations," Fight For the Future's campaign director, Evan Greer, told Newsweek.
"It's a clear case of government overreach. The FBI has been wanting to set this precedent for years and it's shameful that they're exploiting the tragedy in San Bernardino to push an agenda that won't make us more safe, and in fact will make us more vulnerable to the types of attacks the government claims it's trying to prevent."