Kalamazoo shooter admits he 'took people's lives' - police
Published time: 23 Feb, 2016 01:13
Edited time: 20 Dec, 2016 16:58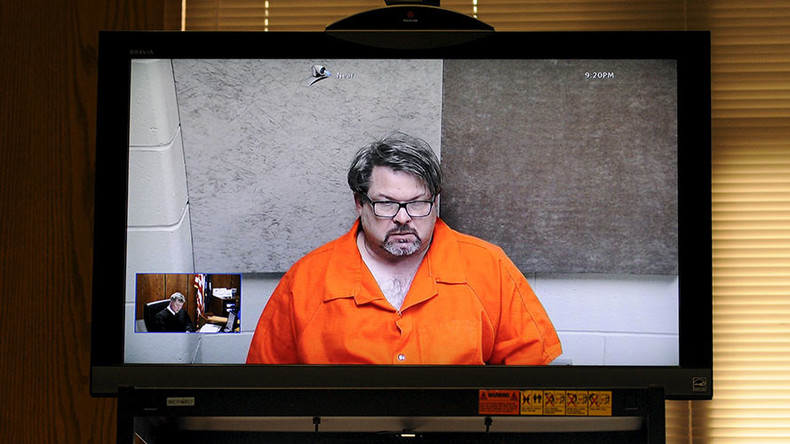 Jason Dalton, the Uber driver suspected of murdering at least six people during a rampage in Kalamazoo, Michigan on Saturday, "admitted under Miranda that he took people's lives" at a court hearing on Monday.
He faces 18 charges, including six counts of murder, two counts of attempted murder, and eight weapons charges. Dalton was refused bond at the arraignment hearing and was told to return to the Kalamazoo County Building for his next court appearance on March 3.
"I would prefer just to remain silent," Dalton told the judge when asked if he had any comment before the decision on bond.
Though police officials relayed to the court that Dalton had admitted to the murder spree, Dalton apparently also remained silent when asked about any motive.
"The investigation is not over, and the search for answers will continue," Kalamazoo County prosecutor Jeffrey S. Getting said in a statement.
"He didn't offer anything up relative to that," Kalamazoo Police Chief Jeff Hadley told reporters asking about Dalton's motive. "We're at a loss, as is everyone else."
A 45-year-old married man with two children, Dalton reportedly continued to pick up and drop off Uber customers on Saturday night, in between what police have deemed "random" shootings around Kalamazoo, a city of less than 75,000 residents in southwestern Michigan.
The first victim, Tiana Carruthers, remains in critical condition after being shot in front of her home late in the afternoon. Some four hours later, father and teenage son Rich and Tyler Smith were shot dead in the lot of a local Kia car dealership. More killings quickly followed in a parking lot of a Cracker Barrel restaurant, where Dalton fired at four elderly women: Mary Lou Nye, Mary Jo Nye, Dorothy Brown, and Barbara Hawthorne. A 14-year-old girl who was with the women was also shot and later pronounced brain-dead, then found to still be clinging to life. The girl is in extremely critical condition.
The first 911 calls pertaining to Dalton's actions that night were reports of his unsafe driving, called in by his Uber passengers. The rideshare company released a statement on Sunday calling the shootings "devastating," and Kalamazoo County Sheriff Richard Fuller confirmed the company will "help us fill in some timeline gaps," the Associated Press reported.
Dalton had no police record and passed Uber's strict employment background check. On Sunday, Chief Hadley told reporters that nothing about Dalton's history "would lead us to believe he was capable of this type of behavior."
Dalton was arrested at 12:45 am on Sunday in a parking lot in downtown Kalamazoo, after a police officer recognized his car. Dalton was "even tempered" when arrested, county prosecutor Jeffrey Getting told reporters Sunday.
After a search of Dalton's home, the federal Bureau of Alcohol, Tobacco, Firearms and Explosives found "many long guns and handguns," all of which were legally owned, The Associated Press reported Monday.
"This type of violence has no place in our society, and we express our love and support for everyone involved. We intend to cooperate in every way that we can to help determine why and how this occurred," Dalton's family said in a statement Monday.
Beginning Monday, all official flags in Michigan will fly at half-staff for six days to honor the six killed in the shooting spree, Governor Rick Snyder ordered.